BrewVeiw: Lumberyard Cellars, A Great Addition to the 120
By Brandilyn Brown & Christopher Mitchell
If your friend asks you "Wanna go to the Lumberyard?", and you respond "No, I don't really want to go to Home Depot today," you are gravely misinformed! Lumberyard Cellars is a new wine bar in Escalon, and yes, you do want to go.
Derick and Megan Webb are a husband and wife team with a passion for wine. Derick is the winemaker who studied at Modesto Junior College before getting his BA in Enology at Fresno State. He finds joy in sourcing the yummiest grapes to bring you an excellent wine. It's called "Lumberyard Cellars" to pay homage to the building it once was. Any home-town Escalonian knows that the beautiful red barn building used to be the local lumberyard, and despite it being many things since those grand ol' days, the lot is still known as the Lumberyard.

Megan grew up in Escalon so it just made sense for the Webbs to create Lumberyard here and let their roots dig in and multiply.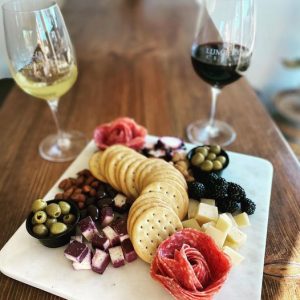 The labels on the bottles might be plain, but don't let that fool you, the liquid in the bottle is not plain at all. Try all his wines for the low tasting fee of $10. We think you will love the light, refreshing Sauvignon Blanc the best, but the Rose was equally as crisp on a warm summer day. Since summer lasts 9 months here in the Valley, feel free to come sip a glass right up until Halloween and purchase a few bottles to share with your loved ones over the holiday while you're there.
If you swing by with a friend who isn't much into wine, that's ok. I bet you can bring them to the wine side with the oh-so-delectable house-made sangria. It's mixed daily with seasonal fruit so you will never have the same glass twice. If that doesn't do the trick, they carry Stella Artois and Oakdale's Last Call Brewing to satiate the taste buds of your beer drinkers. 

Get a charcuterie board with your tasting for only $15, which features some of the best the Valley has to offer like Hilmar Cheese, Nut Up Industries, Stuyt Dairy, World Food Products, and Fiscalini Cheese. They easily feed two people. Seating inside or outside is very posh and comfortable. Squishy couches or high stools are your inside choices, and if you sit outside on the patio furniture covered from the sun, surrounded by gorgeous twinkle lights, you'll feel very special indeed. It's relaxed enough for drinks with your friends and romantic enough for a date night.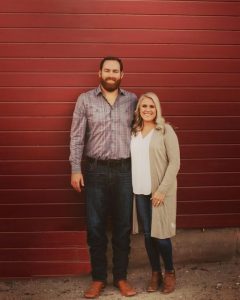 Derick and Megan want you to know that everyone is welcome at the Lumberyard; their goal was to create a friendly welcoming wine bar where you feel appreciated and like you belong. We certainly felt like we belonged, so we can attest that they have succeeded and I'm sure as they continue to grow that feeling will only become stronger.

Food trucks often park for the evening as well, and monthly concerts are in the works. Follow them on Facebook or Instagram for more information as those plans unfold. They're also having a grand opening on October 16th from 12-4 pm, celebrating all four businesses in the lumberyard building: Pencie & Ginger, Studio Off Main, Total Dairy Solutions and of course, Lumberyard Cellars. There'll be a selfie station and a dessert bar, yum, so don't miss this fun afternoon.
For real, try the sangria! You will fall in love. And remember to tag #modestoview in your photos for a chance to end up in the magazine!  
Drink responsibly and sip on, friends!
Lumberyard Cellars, 1455 First Street #4, Escalon. 209-857-6181 
Bring on the rain, and a bottle of Wonky & Wry's Honey Braggot Ale. Loves to roast marshmallows over a fire. Enjoys the mix of cigars and whiskey.