UnpluggedView: Strange Magic
by Aaron Rowan
High art goes high-tech this month when Opera Modesto returns to the Gallo Center with its first production of the season: Mozart's final opera 'The Magic Flute.' Featuring a cast of about 20 vocalists, the piece is a fairytale full of gorgeous music, comical star turns, laughter, sorrow, and unusual twists and turns that can be enjoyed by children and adults alike. True to their often larger-than-life style, OpMo's staging of this fantasy adventure will employ projection technology covering nearly 900 square feet to form the scenery and set pieces, including the thrilling opening scene in which the hero flees from a digitally rendered dragon – the creation of graphic artist and Modesto native Christopher Flores. They've also partnered with another local artist, Shirlee Rudel, whose paintings inspired by nature and mysticism will provide the backdrops for the rest of the opera. Dancers from Central West Ballet will also help bring this surreal narrative to life. Showtimes are October 15 at 7:30 pm and October 17 at 2 pm, with informative lectures on the composing of this opera delivered one hour prior. Tickets run $39-$79, available at 
www.galloarts.org
.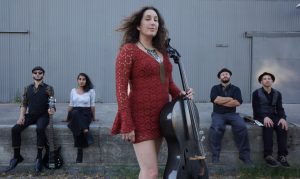 Coming later this fall is a major Modesto Unplugged showcase. Sunday, November 14 at 2 PM, it's the return of the one and only Dirty Cello, who have been star headliners of my series for over eight years. Classical cellist Rebecca Roudman has performed with the Modesto Symphony Orchestra, and has contributed to motion picture soundtracks including 'Looper' and 'Kill The Messenger' (the latter of which, incidentally, starred Modesto native Jeremy Renner.) Dirty Cello is Rebecca's let-her-horsehair-down project, where she takes her instrument down more fun avenues such as blues, bluegrass and classic rock, accompanied by Jason Eckl on guitar and a rotating cast of musicians. Rebecca doesn't just get the Led out – she shreds the Led out. The band also composes original songs and offers some flavors of Celtic and Eastern European music. This ensemble whips up a standing ovation whenever they come through town. Adding to the fun of the afternoon will be two 2021 Modesto Area Music Award nominees: True South, one of Modesto's finest original music party bands with lots of country-rock and bluesy offerings; and youth rockers Float On, who I so enjoyed having at my last VMI concert that I invited them to serve as the regular opening band for my showcases there. We'll be in the Valley Music Institute building at 1220 J St. Doors open at 1:30, $20 cash only at the door, and you can reserve seats at 
modestounplugged@

yahoo.com
 or 209-543-5306. Intimate performances. Infinite playlist. MODESTO UNPLUGGED. 
www.modestounplugged.com
.
Middagh Goodwin LIVES Music. He has been booking and promoting Music, Art and Comedy for years in the Central Valley. He ran the award winning Plea for Peace Center in Stockton for 5 Years and has booked bands from A-Z. Middagh is beginning 2016 with a new position at the Gallo Center for the Arts and celebrating Beat Happy! Music's 30th Anniversary. Read the MAMAView every month and a the Needle Drop 52 Records 52 Weeks.