BrewView Hey There, Manmosa
By Brandilyn Brown and Christopher Mitchell
Chef Tye Rhone Bauer is a household name, one of Modesto's local celebrities. He opened Bauer's 66 ½ in the back of McHenry Village in November 2009. If that sounds familiar to you, it should! It was featured on the popular show "Diners Drive-Ins and Dives". Since then he has opened two new restaurants, the Bauhaus (near Five Points), and Bauer's Downtown Gastropub (on 9th), subsequently closing the doors of Bauers 66 ½. Now it resides as a happy place in our memory for nostalgic purposes.
He grew up in San Lorenzo, CA, as the youngest in a family of seven. Both of his parents did the cooking at home, so when birthdays popped up, the kids got a special treat: they got to pick where they wanted to eat and everyone went out. Dining out was a special unique experience, and tied in with being raised on home-cooked meals, his culinary love was born. He is a magician in the kitchen, creating culinary delights to truly tickle all your senses.
I fell in love with Bauers 66 ½ after eating their mac 'n cheese. If you have eaten it, you know what I'm talking about! It will haunt your dreams in the best of ways. I hold all his food that I've consumed after that to that delicious standard of his mac 'n cheese, and I am proud to announce any dish you choose is going to be amazing and I dare you to eat it slowly. Because you can't. Savor it, surely, but you'll be shoveling as fast as your fork allows.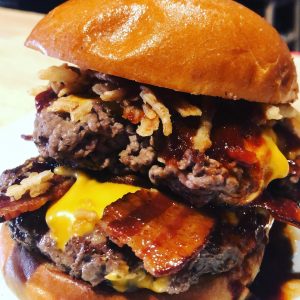 Wait a second, aren't we BrewView? Why are we even talking about food? Because friends, nothing goes better with one of his tasty, fresh, hand-ground beef burgers than a refreshing beer. All his restaurants feature a fantastic selection of tap and cans, that rotate and feature some of our local favorites like Last Call, Blaker, and Tapped Apple Cider. Tye gives back to his community like that-he is a big supporter of other local businesses. And if the word "burger" makes you want to flip this page to another View because you're vegetarian or vegan, stop! The vegan options are just as good (if not better I dare say!) than the meat-centric dishes. So please give them a try no matter what lifestyle you live. The burger of the day is never a bad choice. Go with it, try something new!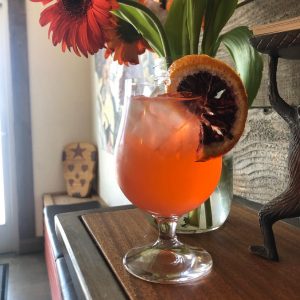 But back to beer and cider….and also the manmosas. Yes, you read that correctly, everyone can drink a mimosa these days, and who wouldn't want to when it's something as delightful as a blood orange mixed with champagne? The offerings change up frequently, so you'll be pleasantly surprised all the time. Believe it or not, because it took us quite a bit to get to the entire reason we chose to write about Bauer's Downtown this month, we want to brag on these manmosas. They are a perfect summer drink! They are offered bottomless on Sundays for brunch, so we suggest that is when you go. You'll be serenaded with some great live music too, from some of your favorites like Mattea Overstreet and Big Earl's Poorhouse Millionaires. Just look at it! Isn't it so beautiful you almost don't want to drink it? OK, that's a lie, you TOTALLY want to drink it. Drink it up and love it! They ARE bottomless though so bring a designated driver and sip on, friends!

Bauer's Downtown Gastropub/Downtown Bauer's 209
822 9th Street
Modesto, Ca
Phone #(209) 312-9558
www.facebook.com/8229thstreetmodestoca/
Monday & Sunday closed
Tuesday – Wed 11 am to 8 pm
Thursday — Saturday 11 am to 9 pm
Bring on the rain, and a bottle of Wonky & Wry's Honey Braggot Ale. Loves to roast marshmallows over a fire. Enjoys the mix of cigars and whiskey.