SongwriterView: The Good Listener or Please Tip the Musicians
By Patty Castillo Davis
If I had a dollar for every time I was asked about the rules for tipping live musicians, I would have an overflowing tip jar. Tipping in any industry, profession and even country can be a nuanced topic.

Music is about as subjective as an art form gets and performances and settings vary too wildly for hard-and-fast rules.
Be it a pickle jar or empty beer pitcher most live venues have a receptacle near the stage where patrons can drop bills for the benefit of the musicians.

Tips shouldn't be expected but they are always appreciated and a common gesture to acknowledge the musician's contribution to any ambience.

You never know if the artist is playing solely for tips and if they are a full-time career musician.

According to Kurt Deutscher, drummer, blogger and Musician's Union representative, tipping guidelines follow a situation base-street busking, live music venue or online remote. There's a huge difference between getting from one end of the street to the other and one that's a deliberate choice to settle in and be entertained. If you have stopped for a song or two while walking to your destination and you pass a Street busking musician, it is customary to throw in a few bills. If you are inside of a venue that you enjoy you can be assured that the musicians are relying on tips whether they are being given a stipend by the venue owner or not. Think of the tip jar as collecting a gate fee or a cover charge with the added benefit of knowing that your contribution is going directly to the artist everyday budget for living expenses. Experiences in which you feel transformed or intrigued by should garner a respectful tip. There are few cultural exchanges that surpass music when it reaches you in a personal way, when you are fortunate enough to experience this, baseline tips fall to the side and if you can afford to let yourself -go crazy. The tips are not just money, you are formalizing your status as a fan, you are giving encouragement to a musician to keep going. You are also capturing a share in their merchandise and recordings.

This is the equivalency of respect.
This means everything.
I reached out to clients, promoters, venue owners, musicians and the local AFM 12 music union for baseline settings for tipping.

Busking-$1-$5
Live Venue-$25-$50 per musician
Livestream Remote-$20+

The AFM recommends musicians include mobilizing online tip info at every situation. Fans and Followers can leave tips at their leisure or on paydays, especially in these difficult times.
If someone affects you- complete the circuit.
Thank you for the acknowledgement.
#showmeyourtips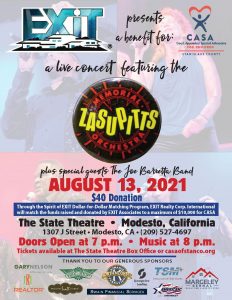 Here is what you can look forward to in August-
Giant party band Zasu Pitts Memorial Orchestra will take over the State Theater on 8/13 for its annual CASA fundraiser, benefiting youth in foster care.
The award-winning Zydeco group Bluesbox Bayou Band will bring the party to Sonora Magic of the Night on 8/6, Black Oak Casino on 8/14 and Ralston's Goat on 8/27.
Tiffs Rose & The Outlaw Hearts will also be at the Sonora Magic of the Night on 8/6, Murphy's Irish Pub on 8/13 and at the River Ranch Music Festival on 8/27.
Live music is coming back.