ChefView: Magnolia Southern Kitchen
By Tasha Wilson
I walked into Magnolia Southern Kitchen on a bright Thursday afternoon, and I felt right at home! Upon opening the door, the aroma of the soul food almost knocked me down, (in the best kind of a way)! It was as if I was walking into my grandma's kitchen in Fairhope, Alabama. You see, I was born in Alabama, and aside from my mom's cooking, it has been a long time since memories from my childhood summer vacations hit me with such a positive rush!

As I continued to stroll in, I was immediately greeted by the employees who were standing behind the serving counter. Each of them grinned and hit me with that good-ole, southern kind of hello. You know, it's the kind of greeting that makes you feel all warm and mushy in your heart. And you'll never believe this? The employees aren't even from the south! I guess the food turned each of them into the epitome of down-home southern charmers!

While waiting to meet with the owners, MsTrace Tedde-Vega and Mr William "Dyno-mite, aka Dyno" Ross, I soaked up my surroundings. There was art on the walls, blues coming out of the speakers, and honestly, I felt like I was in a real Juke Joint! I mean, this place is not just a "VIBE" – IT IS A WHOLE MOOD! Then, my plate arrived, and I was in "The Clean Plate Club" rather quickly! I have braces on my teeth, and even those couldn't slow me down! I was eating so quickly that an older gentleman passed me while in route to the restroom. He slowed up next to my table, looked down, and said to me, "Mmmm, mmm, that must be good!" Boy, was it ever! The fried chicken was seasoned through and through. Every bite of chicken was flavorful. The fish was amazing. I never eat fish, but it looked so good, that I decided to try it. It was pure perfection!

Magnolia Southern Kitchen has been open for a little under a month now. I heard about this restaurant through word of mouth. Shout out to my bay area friend, Feliciano Good, for letting me know about it!

The name of the restaurant came about because Tedde liked the fact that "Magnolia" is the state flower of both Mississippi and Louisiana, and she loves both places. I assumed Tedde was from the south, but instead, I found out that she hails from the Northern Part of the United Kingdom. She grew up in a restaurant family and then started her career in the culinary realm, (cooking European food), but her former in-laws were from the South and her ex-husbands "Southern Mother" told her, "Your food is good, but it's time for you to learn how to cook "RIGHT!" Literally, anyone from the southern states knows exactly what her mother-in-law meant. Most southerners feel that the only way to cook is the "Down-South Way" so Tedde allowed her mother-in-law to teach her!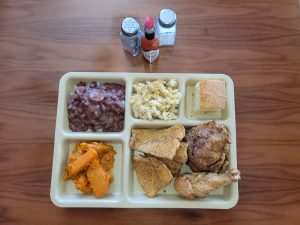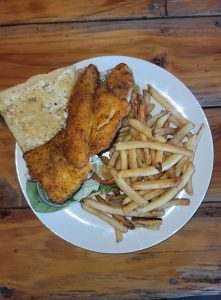 William "Dyno-mite" Ross got his nickname as a child when he fell out of a two-story window. The Doctors told his parents that it was a miracle he survived and that he was going to be a "Dynamite Kid." Apparently, the doctor knew what he was talking about because Dyno-mite is a graduate of the CA Culinary Academy of San Francisco before they changed the name to Le Cordon Bleu.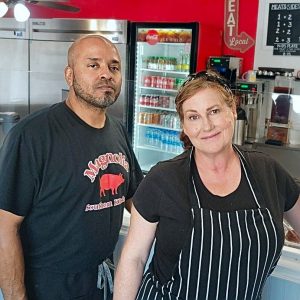 Trace and Dyno-mite met eight years ago at The French Chamber of Commerce Competition in San Francisco, CA. Randomly, they were chosen to be on the same team and ended up winning the competition. While making names for themselves as private chefs, they stayed in contact throughout the years. Eventually, they decided that together, (as a team), they could be even greater and Magnolia Southern Kitchen was born!

There are so many menu options to choose from but call ahead to inquire about the specials happening on the day of your arrival. Here is the menu that was served on the day I arrived: Macaroni and Cheese, Black-eyed peas, Cornbread, Collard Greens, Red Beans & Rice, Chicken & Sausage Gumbo, Fried Chicken, Fried Fish, and (including a Po'Boy Fish Sandwich), New York Steak, Brisket Cheeseburger, and Tamale Pie. And please, don't get me started on dessert! There was: Old Fashioned Banana Pudding, Bread Pudding, Apricot pie, and much more.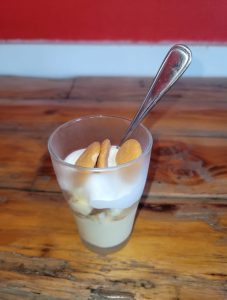 Tedde and Dyno-mite are excited to be serving soul food here in Stanislaus County and they feel so welcomed by the people. Let's get the word out Positive Peeps.

Finally, I asked our signature question: Rolling Stones or The Beatles? Tedde said, The Beatles and since she is from the Northern Part of the United Kingdom – Doesn't that just make sense?
Tasha Wilson is a true "Multipotentialite" in every sense of the word! She has been a freelance writer for over 5 years. She is a singer, an actress, a motivational speaker, a personal consultant, and a self- proclaimed Interior designer! She graduated from Modesto Junior College with the following 3 degrees: 1. Human Services 2. Sociology and 3. Social and Behavioral Sciences. Single-handedly, she raised two adult children, a son, Giovanni, and a daughter, Aciemarie. For singing, acting, and/or speaking engagements, you can easily connect with Tasha, via her social media platforms on LinkedIn, Facebook, and Instagram here: www.linkedin.com/in/tashaalwayssmiles, www.facebook.com/tasha.smiles.daily, https://www.instagram.com/tasha.smiles.daily/