BrewView: Rabbit's Foot Meadery-The Largest Meadery You've Never Heard Of
By Christopher Mitchell and Brandilyn Brown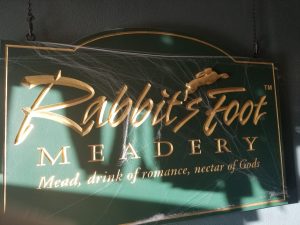 Nothing gets BrewView more excited than trips to check out new libations. And it doesn't have to be new to the scene, as long as it's new to us! We keep driving farther and farther to find new tap rooms to share with you, and we're honestly not sure if we can beat the gem we found Saturday-in California at least. (We left our hearts in Scotland, but we're making do back at home.)
Rabbit's Foot Meadery in Sunnyvale, CA, is where we spent a good portion of our Saturday. You may have heard of them if you've ever eaten at Loza Wine & Crepes in Turlock. Their creperie is one of the only places to find mead in the valley, so check out their selection of dessert wines and meads the next time you're in Turlock.
Rabbit's Foot is in a very unsuspecting industrial part of Sunnyvale, but don't be fooled by outside appearances. Find parking anywhere and head in. It's a very small taproom-get there early to claim a seat. It's rustic and quaint, just how Brandi imagines any old meadery in Norway looking. (Not sure how factually accurate her imagination is.) We visited on Halloween weekend, so the tap room was decked out in spooky and fun decor.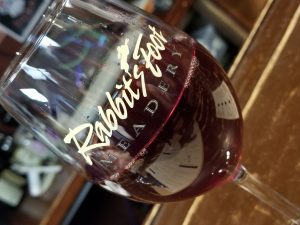 We were greeted by two friendly meadtenders, who seem excited at us not only knowing what mead is, but also knowing what we wanted to order. It is obvious they get many curious drinkers trying mead for the first time (likely thanks to Game of Thrones, or the recent Budweiser commercial). From the moment we walked in, we bonded with them over our shared love of the sweet beverage. They built our flights of mead, cider and cyser with eager anticipation of which would be our favorite pour.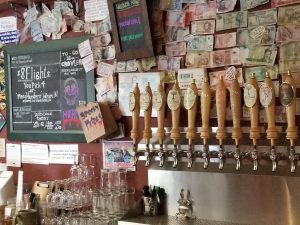 In case you need a refresher, mead is a type of wine, made by fermenting honey. Cider is fermented apple juice, and a cyser is a honey-apple juice blended fermented beverage. They can range from dry to sweet, and can have other fruits and spices in them as well. Then if you ferment honey with grain, you get a beer-mead hybrid called a braggot.
You will find all of those at Rabbit's Foot, though the cider and braggot is produced under Rabbit Foot's other label, Red Branch Cider and Brewing Co., due to the wonderful licensing complications of breweries and wineries.
The apricot cider and the blackberry mead were our top favorites, but we liked so many we tried that we purchased several crowlers to take home to re-visit at our leisure. The prices are spot on, too! You're looking at $6-$8 a glass/pint, and the crowlers were $10-$13.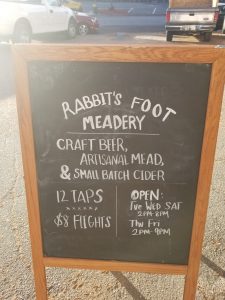 It wasn't long into our tasting before Michael Faul, owner and operator, walked up to greet us. What a treat! A legend in the mead circle, it was an honor to pick his brain. He took us on a tour, and although a very small production area-a lot of magic happens in such a small space! Utilizing every inch of his building there are bright tanks, fermenting chambers, bottling equipment, and barrels with aging mead. He's researched and discovered the fastest way to ferment mead, creating a staggered nutrient yeast cycle resulting in a two week turn-around time (putting our homebrew 60 day wait to shame). Rabbit's Foot might be small folks, but with science, it produces 60,000 gallons a year. Readers, that's a lot of mead. They were the largest meadery in America until 3 years ago. Now they are what Mike calls, "The largest meadery you've never heard of."
Mike, a native of Ireland, visited his family with his wife Maria in 1987. She brought a bottle of mead back with her and fell in love with the drink. Wanting to surprise her, he tried looking for some locally but wasn't having any luck. He decided to start brewing it. After many years of homebrewing, they opened Rabbit's Foot Meadery in their garage in 1995. (Which was legal at the time in Sunnyvale.) Eventually however, they outgrew their garage and their neighborhood. They opened their first tap room in 2000, but 15 years ago moved to their current location.
It was easy to see how proud he is of his product and establishment. He's currently the Vice President of the American Mead Makers Association, and has written a book about mead making. We hope he continues making mead for many more years, imagining new flavors and blessing us with his creations. Please take a trip to Sunnyvale soon and stop in for a flight, your tastebuds will thank you as well as your wallet. Let's make them the biggest meadery you HAVE heard of, shall we?
Sip on, friends!
Rabbit's Foot Meadery
1246 Birchwood Dr, Sunnyvale, CA 94089
(408) 747-0770
Hours: Tue & Wed: 2pm–8 pm, Thus & Fri: 2pm–9 pm, Sat: 2pm–8 pm
Bring on the rain, and a bottle of Wonky & Wry's Honey Braggot Ale. Loves to roast marshmallows over a fire.