Soup is Stewing this Season!
by Jessica L. Sule & Mick V. Rubalcava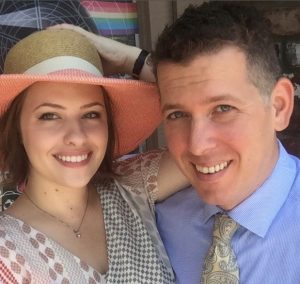 Photo Credits: ModestoNews.com 
Now that the cooler weather has arrived, hot soup season is upon us! We went around town to taste a few of our local favorites that we have been eagerly anticipating. 
Mocha Magic has a dedicated soup season which has now begun. We treated ourselves to their Taco Chicken soup. The Taco Chicken has a thick, tomato base and is loaded with chicken, beans, tomatoes, and corn and is finished off with a pile of shredded cheese and tortilla strips. It was quite mild but very flavorful. 
Papachinos serves a popular White Bean soup all year long, but we tried a seasonal special- Pumpkin soup! This time they made the soup vegan with a broth base and tons of warm winter flavors like cumin and garam masala. It had a thin purée consistency that was very rich and satisfying. 
Fuzio's year-round offering of Clam Chowder on the weekends is even more mouth-watering in this weather! This clam chowder is chunky and hearty- well seasoned with herbs, red potatoes, celery, carrots, clams, and bacon, rivaling other soups of the same name. 
Another local favorite who serves many soups year-round is Chefs of New York. We indulged in their Pasta Fagioli, which is a heavier broth soup with garbanzo, cannellini, and kidney beans with pasta, tomatoes, and fresh herbs. This soup is great as a stand-alone dish or as a side accompanying an entree. 
One stew that is definitely an entree of its own is Sabatino's Cioppino. This indulgent fish stew has a savory tomato-based broth and is overflowing with fresh swordfish, sea bass, Dungeness crab, shrimp, clams, mussels, and oysters with Italian seasoning. 
We asked the ModestoNews.com audience for soup suggestions. Local viewers Theresa Jones Nicolls and Jewel Kee recommended The Velvet Grill & Creamery as their go-to for a great soup selection year-round. Margarita Avila Lundberg loves the Tomato soup from Picasso's. Diana Hess Mitchell said, "I adore the Tom Kha Kai at the Thailand Restaurant." Christina Day and Cande Gaxiola both love the soups at Dewz. See more suggestions by local soup lovers on the ModestoNews.com Facebook page and go get some soup!
Comments
comments
ModestoView features contributors from our community on a regular basis. We enjoy and welcome these honorary ViewCrew members. If you would like to message them, email to info@modestoview.com