CommunityView
By Tasha Wilson
Hey Positive Peeps! After taking at least a 25-year break from roller skating, I am back at it strong and loving it! With that being said, I hear an awful lot about what goes on in the skating community here in Stanislaus County. People share stories about finding places to ice skate, rollerblade, and skateboard here in our city. Recently, I learned of a group taking skating to new heights with random acts of kindness. They give away skateboards to at-risk youth in and around our area. There are quite a few moving heads that started this group. Four, to be exact! There is Devin Dorrity, Erik Baus, Carlos Carrasco, and Charles Insco. Together, these men have begun an exciting new movement!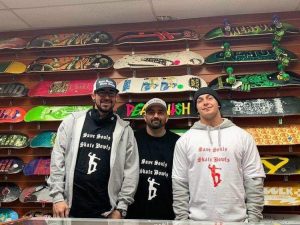 Carlos Carrasco had already been giving away skateboards and joined Devin after hearing his vision. Charles Insco oversees the networking aspect of the group. This project began with a friendship between Devan and Erik. Both had difficulties during their childhood. Often in their adult years, they brainstormed about ways they could start something to help struggling youth in and around Stanislaus County. During a conversation about their newfound passion, Erik jokingly said, "We're out here saving souls and skating bowls!" They laughed and Devin thought: "That should be on a shirt!" Devin was serious about Erik's phrase, and he reached out to his friend, Erika Vega. Vega made the tee shirts and Save Souls Skate Bowls launched! Devin went on to tell me, "Erik and I discussed coming from a broken past and how we would enjoy helping the youth. Each of us have a different reason as to why we do this work, but the same end goal in mind. We want to reach our participants on an emotional level."
When the skateboards are given out, the guys usually offer a skate lesson as well. There really is no rhyme or reason about how or where they decide to take skateboards. They just go – Sometimes as far out as Sacramento, California!
Due to COVID-19, kids are just stuck in the house and battling depression and anxiety so badly. Thankfully, Modesto has four great guys trying to level up the emotional support to youth who may otherwise fall through the cracks. Devin Dorrity, Erik Baus, Carlos Carrasco, and Charles Insco are putting a halt to some heartaches by bringing joy to the children in our community – One skateboard at a time! To date, the group has given away about 60 skateboards and by the end of the year, their collective goal is to have a fully running Non-Profit organization that will continue helping at risk youth within our local community.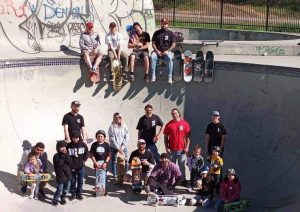 If you have any skateboards and would like to donate to this heart-felt cause, please take your gifts to Yours and Mine Sports in Modesto, California, or take them to Wild Wood Skate Shop in Lodi, California. If you would like to contribute in other ways, please email them at Savesoulsskatebowls@gmail.com Or find them on Facebook or Instagram: save_souls_skate_bowls and they thank you in advance!
Tasha is a true "Multipotentialite" in every sense of the word! Not only is she a freelance writer, but she also sings, acts, attends MJC full-time, pursuing her degree in Human Services, while single-handedly raising two teenagers, a son, Giovanni (16), and a daughter, Aciemarie (14). Find her on both Facebook and LinkedIn here: www.facebook.com/tasha.smiles.daily, www.linkedin.com/in/tashaalwayssmiles.