The Modesto Noir Series Finale With Bogey
by Professor Arnold Schmidt, CSU Stanislaus
Randy Siefkin, Modesto Film Society/State Theatre

Join Modesto's historic State Theatre and The Gallo Center for the Arts as they present a classic Noir film, radio drama and discussion of the Noir classic The Maltese Falcon starring Humphrey Bogart.
The State Theatre launches the program on August 12, with a virtual lecture on the 1941 detective story, based on Dashiell Hammett's character Sam Spade. The Gallo Center's re-creation of the radio broadcast can be accessed at any time on the Center's website (www.thegallocenter.org). Find the film at the usual sites or see it on The State's Big Screen on Wednesday, August 18 at 6 p.m.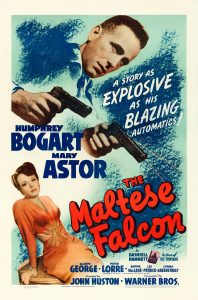 Noir fans are encouraged to view both the virtual introduction to the film and the radio play prior to August 19th's live discussion, which features cast members and crew of the Gallo Center's broadcast and film noir devotees.

Register on The State Theatre's link to the Noir Film Series (www.thestate.org). There is no charge for registration or the discussion.

The State will celebrate American Graffiti month with screenings of American Graffiti, the singalong version of Grease and a Steve McQueen weekend featuring The Blob (1958) and Bullitt (1968).
You will find The State's printable schedule at www.thestate.org. And the next time you cruise down J Street, take a gander at the newly restored Neon marquee, a fitting symbol of the theatre's 87 years in almost continuous operation and a supportive community.
ModestoView features contributors from our community on a regular basis. We enjoy and welcome these honorary ViewCrew members. If you would like to message them, email to info@modestoview.com