FitView: Strength Train Yourself Into Happiness.
By Efren Martinez
Like many of you, I too have not been totally immune from this pandemic. Yes, some days are better than others. The biggest challenge I've experienced is not being able to DJ and entertain you. At times it can be quite heavy on my mind with thoughts of being forgotten about. A feeling of no need for us, in my industry, right now. I'm sure many in our business, like musicians, dancers, photographers, event planners and sound engineers, have also had similar feelings. Yes, our entertainment industry has been shut down now for a year because of Covid 19 restrictions and for good measure.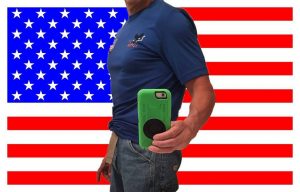 As a God-loving man, I wouldn't want my business to be tied to a super spreader event or even worse have it on my conscience that I was part of the death of anyone because I chose profits over people. Thoughts like this have made it a bit harder to keep my mind healthy and happy on certain days. I long to go back to work and DJ/Entertain you at your Schools' dances, Weddings, Fitness Events and even at our city's fantastic 4th of July parade. I have worked to find an amazing way to help overcome these uncertain sad feelings. As many of you know I am a Tri-athlete. I love to swim, bike and run! Training outdoors has been exceptionally healthy for my soul. I truly recommended it. The sunshine and the fresh air have been a great way to break up my days of unemployment.
Honestly, I realized I am training nearly 24 hours a week to get faster with no race insight just didn't make sense anymore. It's a sure bet that Triathlons won't be coming back perhaps until next year so I decided to flip the switch and start strength training even more. A lot more. Soon after not only did I start to see my body change from a super slender runner type to a 32-inch waist and a 42-inch chest "V-Shape." I also started to see huge improvements in my mental well being and sleep. Curious about knowing why I did some research and found that when we strength train a chemical reaction develops in our brain called Serotonin. Serotonin is an important brain chemical that improves mood, as well as improves your sleep/wake cycle. This is also why many of the prescription medications that are prescribed for depression help increase the Serotonin levels in the brain. As many of my friends know I am an Anti-Meds kind of person and prefer to always go natural first. This "Strength Training" thing was really starting to become my new thing. Furthermore, it also provides a certain level of dopamine in my brain, although not nearly as much, as what a runner would experience as a "runners high." Just the same I'll take it all. I still keep up with my outdoor fitness but increasing my strength training has not only improved my mood it has given me that Super Hero kind of body.
Friends, you can achieve this too even if you don't have a gym to go to or free weights right now. I'd recommend using your own body's weight along with gravity for strength training. Some of the 3 simplest exercises you can do are pushups, sit-ups and pull-ups. Start off slow with these strength training exercises. As you go gradually move up to lifting dumbbells, then motorcycles, followed by cars and then by lifting houses. Giggles! Pardon my humor it must be the Serotonin flowing through my brain because I just finished strength training myself into happiness. Cheers to your health, mentally and physically!
Follow me at www.facebook.com/QuakeFitness & www.facebook.com/quakedjs.
I answered the call back in 1983; mixing Music and Entertainment with an eccentric European style has always come easy for me. In the early 80's I was the Disc Jockey for most of the high school dances in Modesto. In the late 80's I found myself in Hollywood working as a dancer and sound engineer for various professional recording industries. In 1990 my wife of 25 years and I started (The Quake Mobile DJ ®) which was seeded from San Francisco's 1985, The Quake, radio station that only lasted a short while on the air. 26 years later The Quake Mobile DJ is bigger & better than ever in the Entertainment industry. Real-Estate, photojournalism, event promoter, saving animals, travel and fitness are a few other of my interests. I also enjoy motivational speaking to children and to those who are struggling with addiction. In my life, I have always been a very direct person and once I see a goal I won't quit till I've achieved it. But out of all of the above I feel in my heart that the best inspiration in my life is my wife and my love for the faith that I practice. Phil 4:20