FitView: Vaccinated and NO Side Effects  
By Efren Martinez

This month's FitView has less to do with fitness and more so with what's on most peoples mind when it comes to getting vaccinated. Just recently, my wife, who fell under those in the first phase category, was vaccinated with the Pfizer's Covid 19 vaccine. Soon after, many of her friends wanted to know if she had any side effects. My elderly parents, who also fell under the first phase, got their vaccine. They were among some of the seniors who received the Moderna vaccine.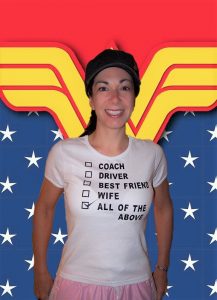 I'm happy to say that my wife had zero side effects after being vaccinated. In fact, after working all day, she got vaccinated and came home and made dinner. We then went on our big monthly grocery shopping trip to get home very late and put it all away. Her vaccination day was quite full, and so was her weekend. The following day she cleaned the entire house and ended her day by stuffing 22 bell peppers. On the third day of being vaccinated, she visited her dad only to come home later that night to make and freeze a mound of meatballs. The vaccine proved safe for my wife, and the only discomfort she experienced was a sore muscle from where the injection was administered. She compared her injection experience to the same as getting a Tetanus shot. In any case, that soreness went away after a day. Make no mistake; my supportive "Team Efren" loving wife is a  Wonder Woman! I owe that to her will on living a clean and healthy life.
For my elderly and disabled parents, they too had zero side effects from their Moderna Covid 19 vaccine. The following day they carried on as any other day. My father cared for his birds, and my mother stayed as bossy as ever. Friends, I'm sharing this experience with you for those who still might be on the fence about being vaccinated.

I understand your concerns.  It's also important to mention that I have not yet been vaccinated and will do so when it's my turn. I'm still not too excited about putting something that isn't natural into my body, but as I've said in last months FitView, this is way bigger than me. It's about our community back to the way was before Covid 19. Yes, I'm taking one for the team, and I am taking one for my community.  

I recommend you consult with your own doctor if you have any concerns or allergies before getting the vaccine. Regardless, continue to practice the healthiest lifestyle you can. Eat a well-balanced diet, take your daily vitamins, that would especially include zinc, vitamin D and vitamin C. Continue to build up your immune system with moderate exercise, plenty of good sleep and stop stressing on what we can't control. In fact, stop stressing completely and give your worries to God.        
Follow me at www.facebook.com/QuakeFitness & www.facebook.com/quakedjs.

On a side note, I think it's important to remember that even after one receives their first vaccination shot, your immunity is "NOT" instantaneous. Just like the flu shot, it takes at least 3 weeks for your body to build up its immunity against the virus. Even after one receives their second covid vaccination, it will take a few more weeks to achieve the vaccine's full effect. I'm mentioning this because I informed and educated my elderly Hispanic parents the importance of how vaccines work. Many in my culture were not aware of this and thought it was OK to toss away their mask. So friends, please remember that even after you get your first and even your second vaccination, we must all still keep wearing our mask.  We should continue to socially distant and wash our hands. The truth is we won't be fully immune from the virus until most of our society gets vaccinated.   
I answered the call back in 1983; mixing Music and Entertainment with an eccentric European style has always come easy for me. In the early 80's I was the Disc Jockey for most of the high school dances in Modesto. In the late 80's I found myself in Hollywood working as a dancer and sound engineer for various professional recording industries. In 1990 my wife of 25 years and I started (The Quake Mobile DJ ®) which was seeded from San Francisco's 1985, The Quake, radio station that only lasted a short while on the air. 26 years later The Quake Mobile DJ is bigger & better than ever in the Entertainment industry. Real-Estate, photojournalism, event promoter, saving animals, travel and fitness are a few other of my interests. I also enjoy motivational speaking to children and to those who are struggling with addiction. In my life, I have always been a very direct person and once I see a goal I won't quit till I've achieved it. But out of all of the above I feel in my heart that the best inspiration in my life is my wife and my love for the faith that I practice. Phil 4:20