Jazz/BluesView: Chris Cain and MAMA Blues
By Eric Benson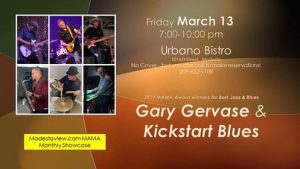 Sometimes things have an organic feel to them, they flourish and fall apart and they come back once again. One of my favorite Bands the Chris Cain Band we used to have come through every three months to the formerly Clayton's Café over the years. Clayton's closed and we lost Mitch Mazetti one of the coolest club and restaurant owners in the valley but we are back. The location now is Café Urbano with new owner Noel Sanchez and now we are going back to bringing Chris Cain back on Sunday, March 15th. Robin Ford one of my favs' on guitar said if there is one guy today singing, playing and writing in the Blues idiom to listen to, it is Chris Cain. And also on the Blues front, we lost Ron Thompson this month, of Ron Thompson & the Resisters. I used to follow Ron all over the bay area playing, some of the most intense, blistering music I have ever heard. Ron had great chops and could sing like a bird but his performance was riveting, intense. More on his life next month when Don Heflin a long time friend will write a eulogy.
Blue Monday Party invitational jam now has gone to every 2nd and 4th Monday of the month with the Blue Monday Band with special guests. The house Band features Johnny Valdes Guitar, Dave Hawks Drums, Conrad Johnson & John Adey Bass, horn section Jamie Dubberly Bone, Kevin Marin Trumpet, John Burt Sax, Dave Dow & Eric Benson Keys, and Pat Governor Hammond Organ. Some bright moments on the horizon, new bands sounding great are The Good Ones, Latin Flavor Band with RJ HASS/Santana tribute, and the Conrad Johnson Unit/R & B and Funk.
The Blue Monday Party returns to Café Urbano this month features; Sunday, March 1st Texas Funk with Roberto Gloria, every Thursday Havana Nights/Latin dancing, Friday 13th MAMA SHOWCASE with Gary Gervase & Kick Start, Sunday, March 15th Chris Cain Band, 22nd Latin Flavor Band with RJ HASS, Sunday, March 29th Jazz Guitarist blowout with Bruce Forman Solo show with Barry Finnerty Guitar with Rhythm section to follow.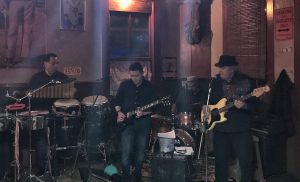 And around the town some beautiful one nighters to catch. The State Theatre features Leo Kottke, guitar virtuoso March 1st, March 14th Mistlin Gallery with Synergy Chamber Players, and March 7th Modesto Unplugged features True Life Crew, the vocal harmony of Europe and America.
And John Griswold of Red Tie Arts is coming back with Calendar for March, A Night at the Museum with vocalist Valerie Weinberg the music of Sinatra, Ella and the Jazz Standards, and April 11th the Spirit of Lennon Tribute. Check out WWW.Redtiearts.org to the lowdown on the how down. The space is a wonderful nightclub experience intimate with table seating with beverage and deserts available. Hope to see you there!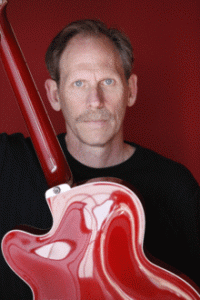 The new season for the Gallo has a diverse offering. In March featuring: 1st Golden Bough, 7th Abba Mania, 11th Chicago/the musical, 14th Everclear, 17th Chris Angel RAW, 19th John Tuner, 21st Bonnie Rait, 22nd Gladys Knight, 28th Straight No Chaser, and 30th & 31st Bandstand, Wow what a lineup!
And my cohost for Blue Monday Dave Dow has his Thursday night jam at the Ralston's Goat on 10th street. Dave's Jam goes from 7 to 10 PM for people to sit in a play with the house band.
And the Newman Theatre a beautiful historic theater in Newman for March has 14th Caravanserai/Santana Tribute, 21st Night Moves/ Creedence & Bob Segar Tribute, 28th North County Blue/best in Blue Grass Band.
All the best, peace out!
Eric Benson, cell 209- 918-7033, email; Mbenson@fire2wire.com.