Jazz BluesView: Support It and It Will Grow!
By Eric Benson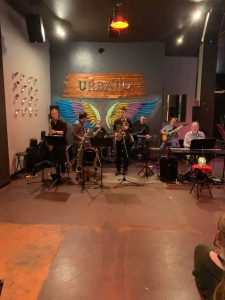 The MAMA's were back live with a big dose of normalcy returning to the State Theatre! Winners and losers but we are back together with live music. It will be challenging as the weather changes, "I'm beginning to feel a Chill" as the song goes, but we will persevere. I am excited to be able to bring live music to Chef's of New York with Jazz on Fridays and Blues and Roots music on Saturdays as of November. The lineup for November: 5th Blue Monday Band, 6th Thunder Roads,12th John King Duo Jazz guitar, 13th Shad Harris, 19th John Albano Jazz guitar, 20th Tony & the Tough Times, Chicago Blues, 26th John Adey's Jazz Experience with Andrew Rosenblum, Dave Hawkes & Michael Soria, 27th RJ Hass Band/ Blues, Santana. The food is great with a full bar and a nice intimate room for the music, hope to see you there!
Cafe Urbano has DJ events with Taco Tuesdays, Thursday through Sunday with dance instruction with Salsa, Cumbia and other Latin idioms. Blue Monday Party Jam second and fourth Mondays Nov 8th and Nov 22nd. The Band features John Adey & Conrad Johnson Bass, Dave Hawks Drums, Andrew Rosenblum & John Burt Sax, Johnny Valdes guitar and vocals and Eric Benson Keys. We play jazz, funk, Latin and the Blues. The jam goes from 7-10 PM with a full bar and great food!
Chris Murphy at the MAMA's brought up that we need a full-service music house like we used to have with the Fat Cat Music House. I hope we can put this together as we have the musicians, and we have the audience; we just need to build it and they will come. A lot of my peeps are still on the fence about coming out to see a show even with social distancing and precautions in place. I encourage all to get vaccinated and be cautious but not fearful! This is our world, and we all need to get on with the business of living.
The State Theatre is back in business with shows, check out their site for the lowdown: www.theState.org, and Modesto Unplugged: Dirty Cello Nov 14th at Valley Music Institute: www.modestounplugged.com. And I encourage all to take a trip to Yoshi's Restaurant and Night club Jack London Square Oakland. It is a world-class venue for Jazz and live music that managed to survive the pandemic and is back open.
Well, the pandemic will be around for a while but in the meantime, we have to continue to support our economy and businesses that support the arts. We are trying to do more live events outside with social distancing to keep people safer and inside shows with smaller capacity. All we need is for you to come out and be part of the scene! All the best Eric Benson, peace out!