Jazz/BluesView: Support It and It Will Grow!
By Eric Benson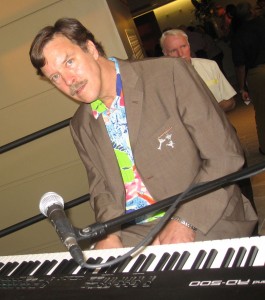 Fall is upon us with the hope of coolness, turning colors of the leaves and pretty please with sugar on top let it rain! We survived the sizzle of summer, California fires, the second wave of a global pandemic. I don't know about you but I'm ready for a break. A lot of my peeps are still on the fence about coming out to see a show even if social distancing and precautions are in place. I encourage all to get vaccinated and be cautious but not fearful! This is our world, and we all need to get on with the business of living
Big shout out to Red Tie productions John Griswold who did outside shows Luca Winery with Forever land/ Michael Jackson tribute, East Bay Soul, Fleetwood mask and Journey revisited with good attendance. And Dylan Soto who did Band's of Sunner, a great show Café Urbano outside with Whiskey Skulls and maximum Rock & Roll!.
Chef's of New York is now open in their new downtown location with breakfast, lunch and dinner and hosting Jazz and Blues Friday and Saturday nights and Karaoke Thursday nights. State Theatre brings in Queen Nation: Queen Tribute Oct 16th at the State and Modesto Unplugged has Dirty Cello on Nov 14th at Valley Music Institute. I encourage all to take a trip to Yoshi's Restaurant and Night club Jack London Square Oakland. It is a world-class venue for Jazz and live music that managed to survive the pandemic and is back open.
Well now things are opening up there are plenty of great shows to do but we need all you good people to come out and be part of the scene right here right now. The pandemic will be around for a while but in the meantime we have to continue to support our economy, businesses that support the arts. We are trying to do more live events outside with social distancing to keep people safer and inside shows with smaller capacity at Ralston's Goat, Downtown Baurs and Café Urbano and other downtown venues.  
Café Urbano continues with live music: Sunday shows, and Blue Monday Party with Jam session Oct 11th & 25th, every second and fourth Monday. The Blue Monday Band features John Adey & Conrad Johnson Bass, Dave Hawks Drums, Andrew Rosenblum Sax, Kevin Marin Trumpet, John Burt Sax and Dave Dow & Eric Benson keys playing Jazz, Funk, R & B, Latin and the Blues.   Urbanos also has DJ events Salsa, cumbia on Taco Tuesdays, also Thursday through Sunday for DJ Latin dancing with great food and full bar so come on down. I and other promoters feature live shows.  
Well, folks thanks to all you good people for doing the right thing, wearing masks, social distancing and getting that Soul Vaccination things are continuing to improve.  We also need to support our local business and economy, so they continue to stay healthy also, so please continue to support our local venues. Peace out, Eric Benson! Need to get me or co-conspire with me,(209) 918-7033 And be like Alpha Beta and tell a friend or a hundred!