Kids View: Local Children's Author Maureen Lemos Helps Kids to Fall in Love with Cows
By Brandilyn Mitchell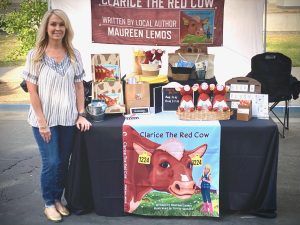 While shopping the Thursday Modesto Certified Farmers Market recently, I met Maureen Lemos-a children's author of two books, "Clarice the Red Cow" and "Clarice the Red Cow Has a Surprise". Her booth caught my eye because there were adorable tiny stuffed cows all over it–I'm a sucker for plushies. Living in the agriculturally rich valley my whole life, I am also no stranger to cows. If your kids loves cows, you'll need to check out these cute little stories! 
Maureen is an author, professional photographer and California dairy farmer-even serving on the California Milk Advisory Board Executive Committee and Dairy Council of California. Her husband is a third-generation dairy farmer at Lockwood III Dairy, and their son has carried on the family heritage, starting his own dairy, Lemos Jerseys in 2017. The family is passionate about taking the very best care of their animals and land and truly enjoy sharing what they're doing with you! From on-farm visits to virtual tours, they'll tell you all about where your food comes from, what steps they're taking to improve farming methods and be more sustainable, and caring for animals and the environment.
ModestoView: Hi Maureen! Thanks for taking time out to talk to ModestoView about your books. Please tell us about your beloved characters, Clarice and Mitzi.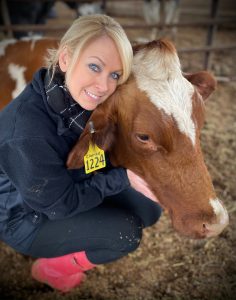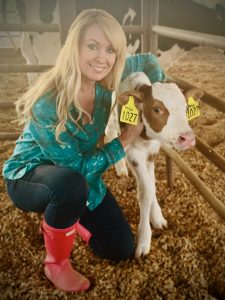 ML: The story of Clarice was written in memory of my very special red Holstein cow, and based on our real-life bond and friendship. Each page in the book was inspired by a photo that I have turned into a story. Mitzi is Clarice's daughter, and first calf. Everyone loves Mitzi! She is very sweet, and loves attention. She comes running when she hears my voice, and follows me wherever I go. She is almost 4 years old and is the largest cow at the dairy. She stands out, not only with her beautiful color and fun personality, but also her size! She was Clarice's first calf, but definitely has her own unique look and personality. 
MV: Did you always want to be a children's author or did something pull at you as an adult to get these stories out?
ML: My unique bond with Clarice is what inspired me to write and publish a book. I received her as a Christmas present, under the tree in my living room, which is where her ear tag # came from ("1224" for the date of Christmas Eve) and her name, Clarice, is Rudolph The Red Nosed Reindeer's girlfriend. Rudolph is a traditional Christmas movie in my family, so Clarice was the perfect name. Our bond was instant, and continued to grow through the years. Clarice was an amazing cow, and our friendship was truly a special one. After losing her in February 2021, I felt inspired to share our story, and spread some of the joy she brought to me. I truly hope you can feel the love Clarice brought to me, and our dairy, through the pages of my books. 
MV: Oh gosh, Clarice was always my favorite character in Rudolph! I was wondering if there was a connection there at all!
MV: Your illustrator is Yorris Handoko. How did you find him and ultimately choose him to draw Clarice?
ML: When I was inspired to write the first book, it all happened pretty quickly. I came up with the text, made a few revisions, then went to work looking for the perfect style of illustration. I joined a few Facebook groups, and spent several days looking at hundreds of illustrator's work. The moment I saw Yorris Handoko's work, I knew it was exactly what I was looking for. The bright, happy illustrations were exactly what I had in mind. 
MV: Your rhyming scheme is really simple, as a result your these stories are easy to read and are short enough to hold every kid's attention span. Was that something you were aiming for or was it happenstance as you wrote them?
ML: My goal when writing my books was to make them fun to read and enjoyable to look at, and hopefully something children would want to read again and again! I love to see children with books in their hands! Being a Dairy Farmer, my hope was that children would enjoy reading about my special friendship with Clarice, learn what a dairy farm is, and how we care for our cows. Being a Board Member for the California Milk Advisory Board and The California Dairy Council, I am passionate about agriculture and nutrition education. I hope to open doors for people to learn more about where their food comes from, and the nutritional value of dairy products. Being a children's book author is another opportunity to bridge that gap, as I do book readings and speaking engagements, sharing my story about Clarice and our dairy.
MV: Do you have any more stories you feel compelled to share with children that we may hope to read soon? 
ML: I do have another project in the works…but also really love to keep things a surprise. So, stay tuned!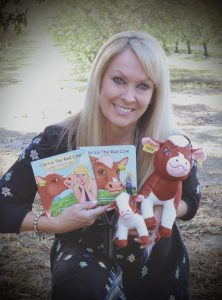 Reading "Clarice the Red Cow", I was fondly looking back on an article I wrote to promote "Ag in Motion", which was the mobile science classroom that toured Stanislaus and San Joaquin Counties. I was talking to a little boy who was absolutely shocked to learn cows were NOT the size of dogs. "They are REALLY BIG!" he said, moving his arm up over his head. "But you can still pet them." I thought to myself how lucky that cow was to get pats and scritches from happy, adoring kids and how happy Clarice must've been, to be loved and appreciated in the same way on her farm. I'll always think of that when I read this book to my daughter and nephews.
Reading to your kids is so important-not just for the educational aspect of letter recognition, learning sight words or phonics, but the VERY important aspect of connecting with your child. Giving them that one-on-one time every night to bond with you and build lasting memories is irreplaceable and priceless. If you want to add these cute books to your bedtime routine, you can buy her books at the Hilmar Cheese Company Visitor Center and the McHenry Museum, amongst many other locations , as well as via her website. 
Lastly, if you have a child from age 1 day to 5 years old, please sign them up for the Imagination Library. Sponsored & created by Dolly Parton, this non-profit gives each child one book every month until they are five years old. Great books like, "The Little Engine That Could", "The Rabbit Listened" and "There's a Monster In Your Book". It is free to sign up, and the requirement is not based on anything other than your child's age. Sign up here. 
Follow her on socials to keep up with book signings, story time readings and more! 
Facebook: Lockwood III Dairy/Lemos Jerseys
Instagram: @photographer_on_a_dairy_farm
www.claricetheredcow.com
Bring on the rain, and a bottle of Wonky & Wry's Honey Braggot Ale. Loves to roast marshmallows over a fire.