MAMAView: For the Love of Music
By Middagh Goodwin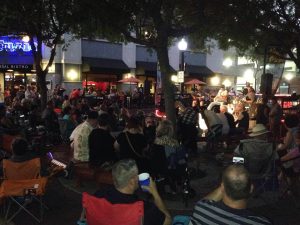 Most people like music but there are some who love it, it is a lifelong passion maybe even an obsession. The soundtracks for movies are as much a co-star as any actor. We read books about music and watch documentaries, We buy music in a physical format, I buy viny whenever possible, We are archivists, historians and collectors. I myself have dedicated a large part of my life to promoting music, by putting on shows, hosting radio shows or writing about it. Music keeps you young and has the ability to elicit memories long forgotten.
There is nothing like original music performed live; it is electric(even when it is played acoustically.) Unfortunately, even before the pandemic, there were few places to hear original music played on a regular basis. We have a wealth of talented and creative players in the greater Modesto area and it is something I love about living here. The talent is here but we need more outlets for them to be able to showcase that talent live. Until then musicians please send me your songs(mamarecords209@gmail.com) so I can play them on KCBP 95.5 FM.
Christian E. Boyatt(The Flowers/Freak Radio) and I have been discussing organizing a festival later this year in hopes to jumpstart a resurgence of Live Local Original Music. I also recently saw a post from Jordan Waters of Horizon Point/Koala & the Golden Boy that had a similar idea to put on a festival. I have long been a fan of the idea of multiple one block street fairs that showcase different styles. I think that by taking up a smaller footprint than has been done in the past and creating more genre-specific events Modesto can get back to where we once were. I really was enjoying the 4th Sunday Downtown Blues Crawl that Eric Benson and Earl Mathews were hosting. I would also love to see a Rockabilly Fest happen in Modesto like the Belladonna Beauties used to host. I personally want to put on a ska festival to go along with my world syndicated show This is Ska.
It will take the effort of those who love music to make events like these happen and the support of all of you who like music to keep them going. It is a group effort from the venues, to the crew, the musicians and of course the fans.
Middagh Goodwin LIVES Music. He has been booking and promoting Music, Art, and Comedy in the Central Valley for years. He ran the award-winning Plea for Peace Center in Stockton for 5 Years and has booked bands from A-Z. In addition, he is the managing editor of ModestoView and writes the MAMAView and GeekView. Middagh works with the Modesto Area Music Association and books Music in the Plaza. In addition, he owns and operates Graffiti-Con, where cars and pop culture intersects. More recently, Middagh has been working with the Graffiti USA Classic Car Museum, helping to create unique events that help raise funds and awareness of the museum and its mission. On top of that, you can tune into one of two shows that Middagh Goodwin hosts on KCBP 95.5 FM; This is SKA and MAMA Radio.