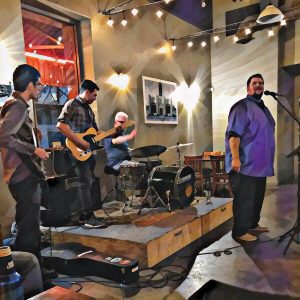 By Earl Matthews
Hello, friends and welcome to full on music season. Starting the month off right with the Thursday Night Supper Club at Ralston's Goat is just what the Doctor ordered. With comedy hosted by Felicia Aleman and live music care of myself and the Poorhouse Millionaires, you can't go wrong. On the first Saturday of May, you have some great blues options; Shad Harris will be at Ralston's Goat, Jeramy Norris will be at the Hotel Ledger and Dennis Jones will be at the World Famous Torch Club up in Sac.
On Sunday the 6th you can catch Lydia Pense and Cold Blood at Moe's Alley in Santa Cruz. It's a great spot for an up-close intimate experience. On Friday the 11th you can catch me with the Poorhouse Millionaires on the 10th St. Plaza in Modesto for a free evening of music. Always fun times. May 12th there is a ton to do so I am just sticking with your blues options, Bill Clifton and the Chicken & Whiskey Band are at the Barking Dog. You should all know Bill as a co-founder of the now legendary Fresno Band The MOFO Party Band. If you are feeling like going north you can catch me with the Cryin' Shame at the Torch Club in downtown Sac.
Wednesday, May 16th I will be hosting my second monthly Blues Jam at St. Stan's Brewing Company on 11th St. in Modesto, Music starts at 6 so come early. On the 18th two heavy hitters are playing Tracy's own Grand Theater, Mr Walter Trout and Eric Gales. That's right 2 of the most amazing guitar players in the world will be in our backyard for one night only. And if you haven't been to the Grand, here is your chance. It is truly a beautiful theater.
On the 19th you can catch Marc Chauvette Band at Moore's Riverboat in Isleton, or you can check out Gary Gervase & Kickstart Blues Band at Barkin' Dog in Modesto. Then turn around and head back to the dog on the 26th to see Bourbon Street Blues Band. Finally on the last weekend of the month in Livingston is the Pick N' Gather Fest at Riverdance Farms, enjoy music, art, pick your own Blueberries and Cherries while live music plays all weekend. I will even be there with the Poorhouse Millionaires on Monday the 28th. Make sure to check out the Weekly Blues Jams at the Barkin' Dog and Garlic Brothers in Stockton as well. Take care and I hope to see you out at a show.
May Blues
3rd Thursday Night Supper Club with the Poorhouse Millionaires and Friends at Ralston's Goat
3rd Jeramy Norris and the Dangerous Mood at Garlic Brothers in Stockton
5th Dennis Jones at the Torch Club in Sacramento
5th Jeramy Norris and the Dangerous Mood at Hotel Ledger in Moke Hill
5th Shad Harris at Ralston's Goat 2:30pm
6th Lydia Pense and Cold Blood at Moe's Alley in Santa Cruz
10th Jeramy Norris and the Dangerous Mood at Garlic Brothers in Stockton
11th Poorhouse Millionaires on the 10th St. Plaza, Modesto 7-9pm
12th Bill Clifton's Chicken & Whiskey Band at Barkin' Dog
12th Big Earl and the Cryin' Shame at the Torch Club in Sacramento
16th Big Earl's Blues Jam at St. Stan's Brewing Company in Modesto
17th Jeramy Norris and the Dangerous Mood at Garlic Brothers in Stockton
18th Walter Trout and Eric Gales at the Grand Theater in Tracy
19th Marc Chauvette Band at Moore's Riverboat Islton
19th Gary Gervase & Kickstart Blues Band at Barkin' Dog
24th Jeramy Norris and the Dangerous Mood at Garlic Brothers in Stockton
26th Bourbon Street Blues Band at Barkin' Dog
27th Gary Gervase & Kickstart Blues Band at Pine Mountain Lake
28th Poorhouse Millionaires at the Pick and Gather Fest in Livingston
31st Gary Gervase & Kickstart Blues Band at Hughson Farmers Market 5:30-7:30
31st Jeramy Norris and the Dangerous Mood at Garlic Brothers in Stockton
Comments
comments
About the Author: BigEarl