BigView: Music in the Nineties
By Middagh Goodwin
Original music in the early nineties shifted, hair metal and new wave were old news and grunge, punk and Ska had not taken a stranglehold just quite yet but they were all circling and making waves. This was certainly the case in places like Modesto and the 209. Modesto Centre Plaza had just opened and there were still a few vestiges of the past where one could go to see live music. Though more often then not you would find it on the fringes. Dazzles Underground would see a few more years of music including hosting early concerts by Primus and Fungo Mungo(1990) before it would be shuttered and eventually demolished along with the Hotel Covell. MOMs Pub at Stanislaus State would also be host to shows including Skankin Pickles first performance in the Valley with Lawsuit from Davis California in 1990. The Club in Turlock was going strong with local and touring bands performing regularly. A fond memory was seeing 3rd Bass and a very young Cypress Hill on November 19th 1991 and playing pool with Primeminister Pete Nice. Other notable shows there for me was the Aquabats October 4th 1997, this was after they performed at the KCSS Ska and Arts Festival at Stanislaus State, with Let's Go Bowling, The Hippos and others.  The Club allowed local bands like Burial Ground and Fathom (Doug Robinett and Mike Allsup both were members) to cut their teeth on a legit stage with national acts. Stockton Rocks was the place to play in Stockton through the 90s and beyond hosting bands like No Doubt, The Deftones, 415, Sister Double Happiness and so many more before they got big.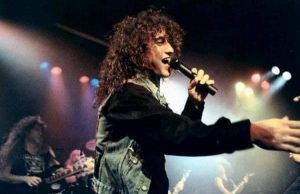 One of the more prominent figures in hard rock and heavy metal in the area was Carl Albert vocalist for The Ruffians, Villian, and would join bay area thrashers Vicious Rumors and go on to world-renown success. Carl died in a car accident in April of 1995 cutting his life and career short. He was a mentor to many in the local scene and along with Willie Hines of Jet Red, Carl Albert was the God Father of Modesto Area Metal.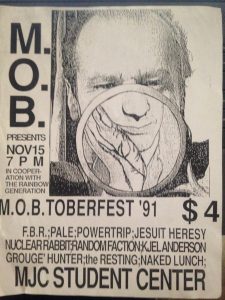 The Modesto Organization of Bands would be formed and put on four shows between the Summer of 1991 and Fall of 1992 with two shows at the Shaque the home of Moon Trent and David Cole and Two more at MJC with the last one being November 20th with bands with names like Pale, Grouge Hunter, The Resting, The Insaints, Random Faction, Powertrip, FBR, Barbwire Dove and Naked Lunch. The first part of the decade saw a good number of shows happening at the Frandor Hall(where Modesto Tent and Awning is now) Nuclear Rabbit, Capital Punishment. I booked the first few shows there before the floodgate opened(only $150 to rent for the day and they did not require security or insurance.)
City Roast Cafe saw its first show when Sprawl from Texas performed on August 4th 1992 and they would continue to host shows at the 12th and I Street location including shows with Bad Dog Sit, The Pray Cows and many other local artists.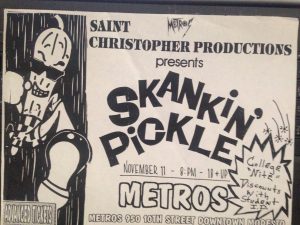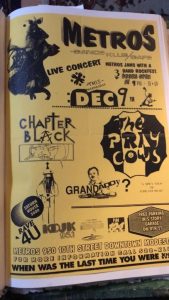 In September the first event I would be part of at Modesto Centre Plaza was headlined by the Covergirls and was in association with Modesto Parks and Recreations. Other bands that played MCP in the 1990s were Night Ranger, Merle Haggard, Tesla, Blink 182 and MXPX in 1998 and No Doubt(who play there twice). Metros, a short-lived venue opened in Fall of 1992 in the lower level of the building at 950th 10th Street. On October 11th a near-riot broke out after Skankin Pickle and Hoodlum Empire performed and the owner/management refused to pay the bands and the manager pulled a gun. Shows took place into 1993 including an early Grandaddy show opening for the Pray Cows and Black Chapter.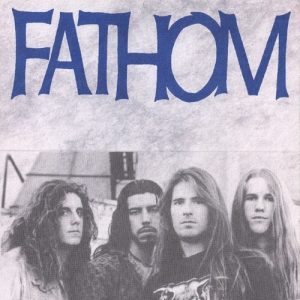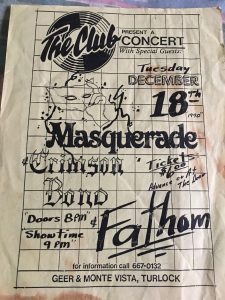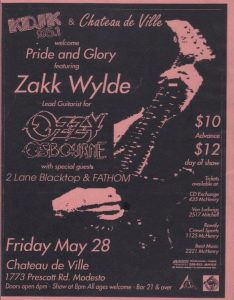 Fathom was the band to see in Modesto in the early Nineties featuring Mike Allsup(formerly of Misled) on vocals along with Remi Kern Bass, Kevin Curtin Guitar and Fred Slau Drums(Doug Robinett Guitar, John Harvick Bass and Bill Salles Vocals were in an earlier lineup). You could see them playing all over Modesto and the area from the Club in Turlock to Minnies, California Ballroom and Chateau de Ville in Modesto. Supporting acts like Zack Wylde, Ace Frehley, Y&T, Villian and playing alongside bands like Masquerade, Nuclear Rabbit, Burial Ground and The Wind(Ty Phillips writer for Modesto Bee. Along with Ronnie Meyer and Shawn Ferris). By the mid-nineties, Mike would form Dam(1996)/Levee(1998) with his brother Russ on bass, Rob Berthelson on drums and Shawn Ferris on Lead Guitar). Dam/Levee would go on to become one of Modesto's most popular and longest-running rock bands. Playing all over California and selling thousands of copies of their self-produced album.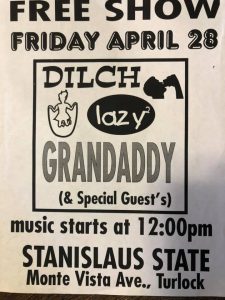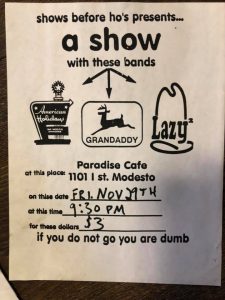 Grandaddy is Modesto's most famous Indie Export. The group was formed in 1992, and featured Jason Lytle, Aaron Burtch, Jim Fairchild, Kevin Garcia and Tim Dryden. Lytle, Garcia and Burtch formed Grandaddy as a punk band influenced by Bad Brains and Suicidal Tendencies, Tim Dryden and Jim Fairchild joined the band in 1995. 1997 saw the release of their debut full length Under the Western Freeway on Seattle based Indie Label Will Records. It was reissued the following year on Big Cat RecordS. The band saw success in the UK and Europe and would headline the Redding Festival in 1998. In 1999 the band signed a Worldwide distribution deal with V2 Records and released the Signal to Snow Ratio EP and ended the decade recording their sophomore record, Sophtware Slump released in 2000.
1993 saw the opening of the massive Gilligan's Beach House by the owners of Catus Jacks's. An 18,000 sq ft bar with a full-size volleyball court inside. It had a huge stage and dancefloor, they hosted such artists as Stephen Stills, Bellamy Brothers, Rick Derringer and Doug Supernaw.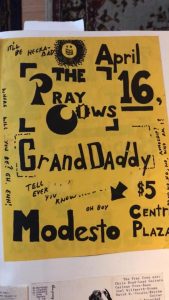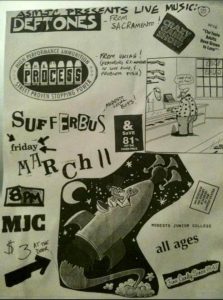 In early 1993, City Roast and St Christopher Production would put on a concert at Modesto Centre Plaza that a very young Grandaddy would open up for the Pray Cows, Stiff Upper Lip(whom I played Valve Trombone for) and Los Rudiments. The Deftones would play their first show in Modesto on March 11th 1994 at MJC with the Process from Ukiah and Suffurbus from Modesto. They would not play Modesto again until October 14th 2010.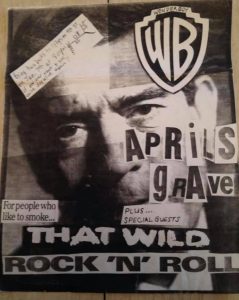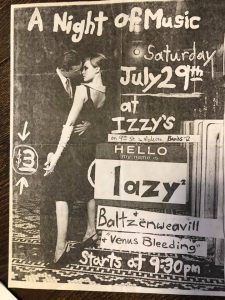 In 1995 shows would be put on at Izzy's where Knockin' Boots is now on North 9th Street. Over the years some fantastic local bands such as Lazy, American Holiday, Fiver, Join'r, Wonderboy, Crayon, Rocketcar and touring bands Squirtgun, The Creamers and others would perform.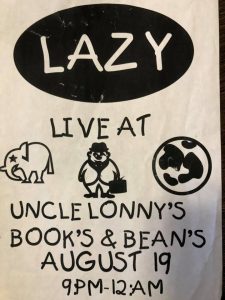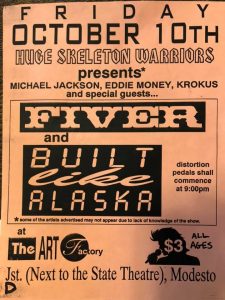 I n the mid nineties you would see shows happening whereever some band member could convince their manager to allow them to throw one, from Subway Sandwiches in downtown Modesto, Uncle Lonny's Books and Beans and The Art Factory.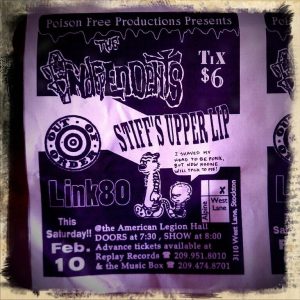 In late 95 early 1996, I started putting on monthly Ska and Punk concerts at the Ed Stewart American Legion Post in Stockton and would continue for the next few years and then moving on to the Siefert Center in conjunction with Stockton Parks and Recreations. At the same time I was putting on shows at Seifert Center Ming Ching would put on Heavy Rock and Nu Metal shows at the Legion(Sham Bulls, Luxt. Wilhaven) and Dave and Daryl were putting some iconic punk shows at the CSM Hall(Citizen Fish, Face to Face, AFI, Screw 32). This was par for the course for most local shows happening at Cafes such as Cake, Dirk Hamilton, and the legendary Less Than Jake at the Blackwater in 1996 just after they got signed to Capitol Records. Local bands like Anti-Domestix, Betty Rage, Scattered Fall, Thought Riot, UVR, The Sandwich Mafia, Dr Rocket and the Moonpatrol, Cremasters of Disaster, Longshot, Before 20, Blast Bandits, Butterfacace would be seen playing with each other and the many touring bands that would make the 209 a pit stop at venues like the Fatty Mocha(Merced), Tees & Greens(Modesto), Yosemite Lanes(Manteca), Borderline Warehouse(Sonora) and Blackwater and Seifert in Stockton.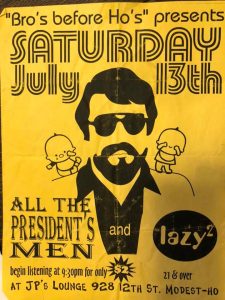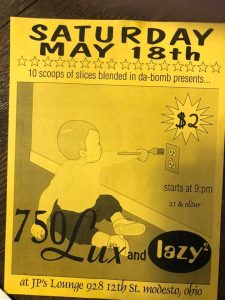 JP's which became the Dirty Duck and now is Speakeasy several shows took place mid nineties into the following decades. This was the 21+ spot to play and go for most of the indie and punk crowd in Modesto. 
The Pizza Machine would continue to host bands into the nineties and even saw some giants play on its( small stage, John Lee Hooker, Elvin Bishop and Pat Travers. Goes to show you all you need is a stage and a room for people to gather and amazing things can happen. Chris Ricci Presents started doing events in Modesto in 1997 with the first B93 Summerfest in '97 and starting out at Club Max at the Red Lion Inn and Crocodiles Nightclub, later moving on to help book at Charlie's.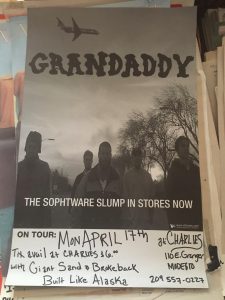 Joe Wagner opened up Charlie's in 1997 and lasted until 2001 and would be the incubator of what was to come hosting Flying Blind, Grandaddy, Built Like Alaska, Dragonfly, J Wood & the Blues Commandoes, DJ Slate & Rocket 88(with Gary Gervase), Fiver and the new breed of Indie Rock and pop bands many other acts who got their start at City Roast and that would make Modesto famous again.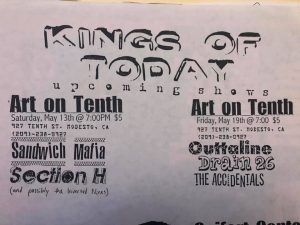 Art on Tenth an underground music house was active for a short time at the end of the decade and would host a good amount of local talent, mainly younger punk, metal and ska bands.  There would be many spots that would open and close during the decade that hosted live music like Fatty Mocha in Merced, Manteca Skate, Mike Miller would do shows at the Sonora Fairground and in the foothills including shows with Voodoo Glowskulls, AFI and Screw 32.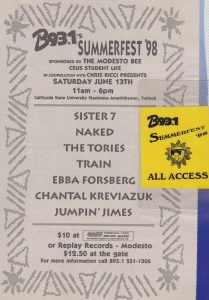 Modesto was set for a renaissance at the end of the nineties entering 2000 with new venues opening up. Marquee events promoted by B93 and Chris Ricci Presents, like Summerfest and Acoustic Christmas, would help bring bigger bands and crowds. All this leading up to the 21st Century with new venues like Fat Cat and events like X-Fest changing the landscape of downtown and music in Modesto and much of the surrounding area.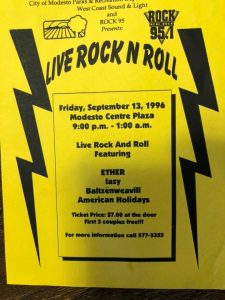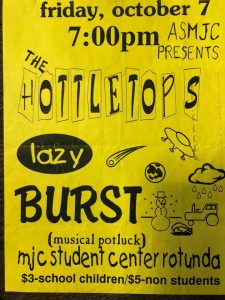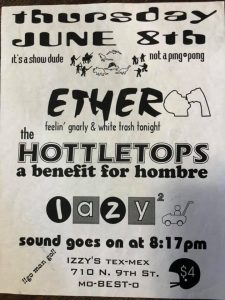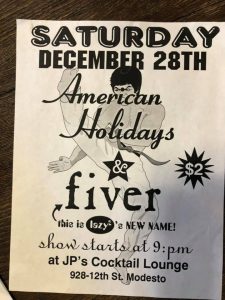 Middagh Goodwin LIVES Music. He has been booking and promoting Music, Art, and Comedy in the Central Valley for years. He ran the award-winning Plea for Peace Center in Stockton for 5 Years and has booked bands from A-Z. In addition, he is the managing editor of ModestoView and writes the MAMAView and GeekView. Middagh works with the Modesto Area Music Association and books Music in the Plaza. In addition, he owns and operates Graffiti-Con, where cars and pop culture intersects. More recently, Middagh has been working with the Graffiti USA Classic Car Museum, helping to create unique events that help raise funds and awareness of the museum and its mission. On top of that, you can tune into one of two shows that Middagh Goodwin hosts on KCBP 95.5 FM; This is SKA and MAMA Radio.