The Valley, The Mountains, The Sea: Debut album by Small Isles (featuring Jim Fairchild of Grandaddy) is out now on AKP Recordings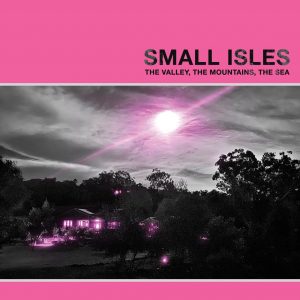 The new instrumental project of guitarist Jim Fairchild (Grandaddy / Modest Mouse) and songwriter/composer Jacob Snider (named Best New Artist by NPR-affiliate WXPN-Philadelphia), Small Isles inhabits a rare hypnotic twilight between motion picture music and incandescent cosmic folk. At once a love letter to film soundtracks and a meditative balm for our troubled times, 'The Valley, The Mountains, The Sea' was recorded by Fairchild on a bare-bones mobile rig while on tour with Modest Mouse, in the cracks of time between soundchecks and performances, from city to city, in darkened hotel rooms and over-lit backstage dressing rooms, giving the album a sense of intimacy, of stolen time and weary after-show solitude.
Playfully conceived as an imaginary score to an imaginary film in the spirit of the 90s sleeper classic 'The Ice Storm', the album is cinematic in a homespun way, at times recalling the innovative film music of Hildur Gudnadottir and Oneohtrix Point Never telescoped through a back porch Sigur Ros or the delicate cobwebs of barely-there slowcore Americana.
Listen or purchase on Bandcamp
ModestoView features contributors from our community on a regular basis. We enjoy and welcome these honorary ViewCrew members. If you would like to message them, email to info@modestoview.com