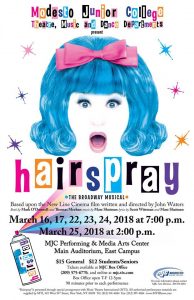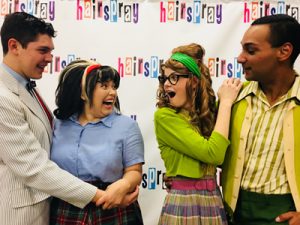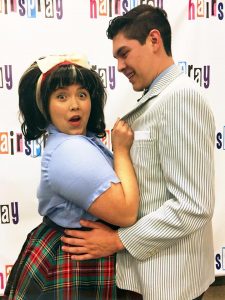 StageView: Hairspray
By Tasha Williams
Surely you do not want to miss this year's Hairspray musical production put on by The Modesto Junior College Theatre Department! It will run from March 16, 2018 to March 25, 2018 and with the actors being directed by Professor Lynette Borrelli-Glidewell, music being directed by Professor Cathryn Tortell, and all choreography being led by Professor Kim T. Davis, there is no doubt – This cast will make you feel as if you have been to a genuine Broadway Show!
If you have never seen the movie Hairspray or the theater production, let me tell you a little bit about it. The story takes place in Baltimore in 1962 where things are still segregated but communication is opening up a little more between black and white people during that time. Enter Tracy Turnblad, a heavyset teenaged girl, (played by Marilyn Diaz-Norris), who by happenstance, lands a gig dancing on her favorite TV show next to Link Larkin, (her teenage crush on the show). She is kind and pure-hearted, so she simply cannot fathom that it is wrong to dance on television with black people just because the color of their skin is a different shade than hers is. This comedy centers around the lengths that Tracy is willing to go through in order to make sure that somehow a connection between the two races can be made on National Television. The music is phenomenal and through the years, this show has won a total of 8 Tony Awards – including Best Musical!
The rest of this Modesto leading cast consists of the following names, and if you look closely enough, you may find a familiar one. That's right, me! I will be playing Motormouth Maybelle!
Marilyn Diaz-Norris as Tracy Turnblad
Jesse Garcia as Link Larkin
Christine Ford as Penny Pingleton
Andrew Merrill as Seaweed J. Stubbs
Tasha Williams as Motormouth Maybelle 
Ambrosia Lobo as Velma Von Tussle
Jasmine Soria as Amber Von Tussle
Patrick Norris as Corny Collins
Philip Azevedo as Edna Turnblad
Andrew Kelly as Wilbur Turnblad
Ana Miranda as Lil Inez
Get your tickets here: https://mjc.tix.com/Schedule.aspx?OrgNum=2154&Tooltip=N and read more about it here: http://www.mjc.edu/news/hairspray
Finally, you can see the show this month on the following dates and times:
FRI March 16: 7:00 PM
SAT March 17: 7:00 PM
TH March 22: 7:00 PM
FRI March 23: 7:00 PM
SAT March 24: 7:00 PM
SUN March 25: 2:00 PM
See you there!
Tasha is a true "Multipotentialite" in every sense of the word! Not only is she a freelance writer, but she also sings, acts, attends MJC full-time, pursuing her degree in Human Services, while single-handedly raising two teenagers, a son, Giovanni (16), and a daughter, Aciemarie (14). Find her on both Facebook and LinkedIn here: www.facebook.com/tasha.smiles.daily, www.linkedin.com/in/tashaalwayssmiles.