MAMAView: The Beat is Back in Modesto
By Middagh Goodwin

If your New Year resolution was to go to more live concerts, then 2023 will start with one heck of a bang. On the third weekend of January, it will feel like music in Modesto is officially back. There will be four not to miss musical events just blocks away from each other and two literally across the street from one another. Mark your calendars and buy your tickets today.

First up on January 20th is another great concert by Greg Edwards and Off the Air, featuring the fantastic French Cassettes, Travis Vick, Awahnichi and Talking Ghosts on January 20th at the Century. Some of the best Indie Rock our area has to offer, and like all Off the Air concerts, there is an excellent chance this will sell out. $12 in advance, $15 at the door.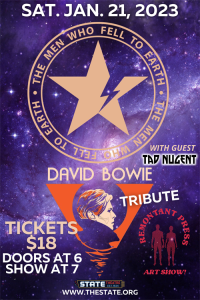 Up next on the 21st of January at the State Theatre, you will not want to miss the Men Who Fell To Earth, a David Bowie Review. Celebrate the life and music of one of rock music's most iconic figures, the Thin White Duke. This is the band's first time back in Modesto since 2019. Featuring members of Torn Boys, Broken Toys, Hospital, Washboard Monkeys, Sweat Taunts, UFO, and others. Opening up will be Tad Nugent featuring members of the Flowers, playing a curated set of songs from the Glam era. 7 pm $18. Buy Tickets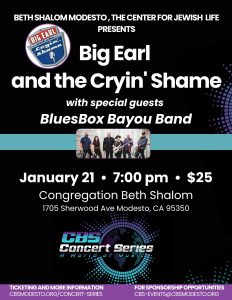 CBS Concert Series kicks off on January 21st at Congregation Beth Shalom. Big Earl and the Cryin' Shame are joined by BluesBox Bayou Band two of the best bands from Modesto performing on the same bill. If you are a fan of blues and zydeco music you will not want to miss this one. Doors at 7 pm $25 Buy Tickets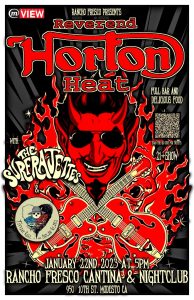 Reverend Horton Heat is one of the biggest names in Rockabilly and used to be a mainstay in Modesto, performing at The Brewhouse at Hero's and The Fat Cat several times over the years. It has been nearly a decade since the band graced a stage in Modesto, and we couldn't be more excited. Joining the Reverend at Rancho Fresco Cantina & Nightclub will be the Surfrajettes, an all-female surf rock band, and Modesto's own Tiffany Rose & the Outlawhearts on Sunday, January 22nd. This is the crown jewel of a phenomenal weekend of musical events; anyone would be a highlight of the year. This show is 21 plus doors at 5 pm $20. Buy Tickets

Get your tickets to one or, better yet, all of these concerts. You are going to want to attend every single performance. This could be just the tip of a fantastic year of music returning to Modesto in 2023. 
Middagh Goodwin LIVES Music. He has been booking and promoting Music, Art, and Comedy in the Central Valley for years. He ran the award-winning Plea for Peace Center in Stockton for 5 Years and has booked bands from A-Z. In addition, he is the managing editor of ModestoView and writes the MAMAView and GeekView. Middagh works with the Modesto Area Music Association and books Music in the Plaza. In addition, he owns and operates Graffiti-Con, where cars and pop culture intersects. More recently, Middagh has been working with the Graffiti USA Classic Car Museum, helping to create unique events that help raise funds and awareness of the museum and its mission. On top of that, you can tune into one of two shows that Middagh Goodwin hosts on KCBP 95.5 FM; This is SKA and MAMA Radio.