FitView: Your Modesto Bike Trails
By Efren Martinez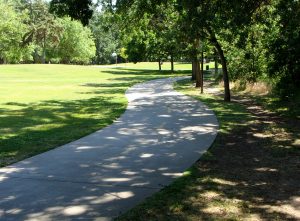 This March's FitView was inspired by our friend Middagh Goodwin. It was he who gave me the idea as well as the information on our local bike trails. Honestly, I was never one to explore our local trails since I've always been more of a road bike kind of person. My bike rides always consisted of at least 30 miles and I just can't get 30+ miles from any of these trails. That's Okay! I know that not all of our friends out there care to ride that far or even bike to neighboring towns and back like those few in my Triathlon fitness hood. Below are a few local bike trails that our friend shared with me. Feel free to bike ride local on any of these trails while enjoying our beautiful and positive city of Modesto. Thank you Middagh for inspiring us all to ride locally.
The Virginia Corridor Trail is a biking/walking/running trail and has some exercise spots along its 4.2 paved miles. The Virginia Corridor Trail represents the transformation of a former Tidewater Southern Railway corridor in Modesto to a premier linear park, trail and recreational gathering place. Currently open from College Avenue to Woodrow Avenue, the popular landscaped trail connects to many of the city's residential neighborhoods, schools, parks, churches and retail establishments.
Along the newer northern stretch of the trail, a bridge transports trail users safely over busy W. Briggsmore Avenue. In the future the trail will be extended on the former rail corridor even farther north to Bangs Avenue, connecting to the Hetch Hetchy Trail along the way.
The Hetch Hetchy Trail extends diagonally through the northwestern portion of Modesto on the wide right-of-way of its namesake water pipeline, which runs underground in Modesto. Operated by the San Francisco Public Utilities Commission, the pipeline supplies water from the Hetch Hetchy Reservoir in Yosemite National Park to the City by the Bay.
Power lines run overhead, but landscaping adds visual interest, while two scenic parks—Chrysler 99 Park and Wesson Ranch Park—offer opportunities to play and relax.
Dry Creek Trail is 8.6 miles and consists of paved and unpaved terrain which is good for mountain biking as well as walking and running. The paved Dry Creek Trail begins near downtown Modesto and meanders east through a series of neighborhood parks along Dry Creek. The pathway features a couple of footbridges and roadway underpasses and is well-used by locals; you will usually see herds of people walking, running, skating and biking, with many accompanied by leashed dogs.
Tuolumne River Trail is 2.3 miles of a paved path that is winding and follows the course of its namesake river in Modesto. The scenic trail captures the true beauty of the region's landscape as it loops through dense riverside woodlands. The trail also provides access to the developing Tuolumne River Regional Park. On the northern leg of the loop, plane spotters will appreciate the trail's run close to Modesto City-County Airport.
Follow me at www.facebook.com/QuakeFitness & www.facebook.com/quakedj
I answered the call back in 1983; mixing Music and Entertainment with an eccentric European style has always come easy for me. In the early 80's I was the Disc Jockey for most of the high school dances in Modesto. In the late 80's I found myself in Hollywood working as a dancer and sound engineer for various professional recording industries. In 1990 my wife of 25 years and I started (The Quake Mobile DJ ®) which was seeded from San Francisco's 1985, The Quake, radio station that only lasted a short while on the air. 26 years later The Quake Mobile DJ is bigger & better than ever in the Entertainment industry. Real-Estate, photojournalism, event promoter, saving animals, travel and fitness are a few other of my interests. I also enjoy motivational speaking to children and to those who are struggling with addiction. In my life, I have always been a very direct person and once I see a goal I won't quit till I've achieved it. But out of all of the above I feel in my heart that the best inspiration in my life is my wife and my love for the faith that I practice. Phil 4:20