Carnegie Arts Center Monthly Saturday Studio
By Brandilyn Mitchell
My little and I recently attended the Toddler "Let's Explore Art!" class offered at the Carnegie Arts Center. 
Our teacher told us about the monthly drop-in craft for kiddos, called "Saturday Studio", held one Saturday each month. For the low price of $5, your kid can make a really cool craft (or sometimes two!). All materials and supplies included. (Cash or card, no fee for attending adults.) You do not need to register for this event. Just drop by anytime between 11am and 2pm. CAC members get special pricing of $3 per maker.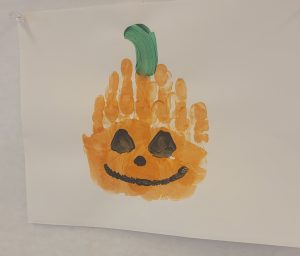 In October we made a clay spider (we could've made a pumpkin but she wanted a spider, ha) and then we painted a handprint pumpkin. The teacher gave us an instruction sheet and all our supplies and then let us get to town with our creative juices. She checked on us often in case we had questions or wanted tips. 

The next class will be November 18th. Kids will be taking inspiration from the forest and will be using pinecones to create bird feeders and woodland creatures. December's Saturday Studio will be the 23rd.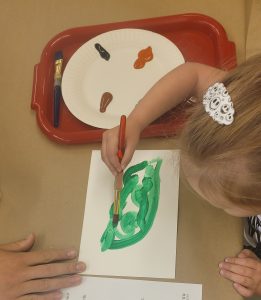 What is the Carnegie? The historic Carnegie Library opened in 1916, one of more than 1,600 libraries built by Andrew Carnegie across the U.S. It served as the City of Turlock's library until 1968 and has been used as an arts center since 1979. In November 2005, a fire destroyed everything but its exterior walls. The City of Turlock and the Carnegie Arts Center Foundation soon entered into a partnership to rebuild and expand the facility. Opening in September 2011, the renovated Carnegie Arts Center is now operated entirely by the Foundation, a private, nonprofit corporation. The scorched walls of the original building can be seen from the lobby of the new addition, where they stand as a symbol of community resolve.
​With a mission to be the community's resource for learning and discovering through the arts, the Carnegie's programs also include classes, programs and activities in artistic genres as diverse as dance, music, poetry, theater and more. Working with regional partners, the Carnegie regularly hosts the Turlock Uke Jamz and Sunshine Strummers music groups, Village Dancers of the Valley folk dancing group, Modesto-Stanislaus Poetry Center Poetry on Sundays program, and LightBox Theatre Company which produces plays for young audiences.

Also in November they will have a ceramic classes, a stop-motion class and an Anime class!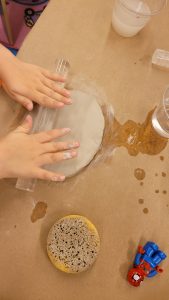 We sure hope you take advantage of these incredible drop-in crafts. Your kid will love exploring art and making something special and YOU will love the time you spend with them making happy memories! 
​https://www.carnegieartsturlock.org/
Carnegie Arts Center: 250 N. Broadway Turlock, CA 95380 (209)-632-5761
Open: Tuesday – Saturday 10 am – 5 pm
Bring on the rain, and a bottle of Wonky & Wry's Honey Braggot Ale. Loves to roast marshmallows over a fire.