FitView: Wham-O Fitness
By Efren Martinez
Back in high school, I was known to many of my friends as the "flying flyer". Unknown to any of us back then were the benefits we got when we gathered to play Frisbee. Many times after a full day of school we would gather at a local park and play 3 fly's up or better yet just a game of Frisbee. Although our Frisbee games were less than dull we often tried to out trick ourselves. I actually got pretty good at it. My favorite trick was to catch a Frisbee while doing a roundhouse kick while my entire body was in mid-air. Thus how I got the nickname the "Flying Flyer." Mind you if I was to try and do that today I most likely would not be able to get up off the ground. Yes, it's been more than a few years since I've been able to leap into the air like gazelle doing gymnastics.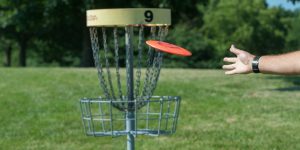 Let's face it we've all aged and so has my body. Still, Frisbee fitness can still be had safely without flying through the air to catch a Frisbee. I'm talking about Frisbee Golf. It's not anything new but has really taken off over the years. Frisbee Golf, also known as Disc Golf, is a great way to get some exercise along with fresh air and that very essential vitamin D. It's also a way to be able to gather with friends outside and share that group fitness while we are still in this global pandemic. Frisbee Golf is very similar to the game of golf and much more affordable. Honestly, if you're not looking to become a professional all you need is a Wham-O Frisbee. It's up to you just how serious you want to get. The main thing is to get out and have fun. Here in Modesto, we have a couple of golf courses to choose from. Follow me at www.facebook.com/QuakeFitness & www.facebook.com/quakedj
Modesto Disc Golf Course
721 Creekview Ct East La Loma Park.
East La Loma Park
2000 Edgebrook Drive.   
I answered the call back in 1983; mixing Music and Entertainment with an eccentric European style has always come easy for me. In the early 80's I was the Disc Jockey for most of the high school dances in Modesto. In the late 80's I found myself in Hollywood working as a dancer and sound engineer for various professional recording industries. In 1990 my wife of 25 years and I started (The Quake Mobile DJ ®) which was seeded from San Francisco's 1985, The Quake, radio station that only lasted a short while on the air. 26 years later The Quake Mobile DJ is bigger & better than ever in the Entertainment industry. Real-Estate, photojournalism, event promoter, saving animals, travel and fitness are a few other of my interests. I also enjoy motivational speaking to children and to those who are struggling with addiction. In my life, I have always been a very direct person and once I see a goal I won't quit till I've achieved it. But out of all of the above I feel in my heart that the best inspiration in my life is my wife and my love for the faith that I practice. Phil 4:20