GoModesto: Furiously Fast Weekend
August 27th-30th at the State Theatre you can watch the first 8 Fast and Furious movies you can buy a weekend pass and watch all 8 movies at a discounted rate. Also part of the FF weekend check out Cars & Coffee 8 am – 10 am on August 28th, they bring out some incredible imports. Stick around and catch Julius & His Latin All-Stars performing in the 10th Street Plaza 5-8 pm performing latin jazz and R&B. This event is intended to help bridge the gap during Graffiti Summer and celebrate the next generation of car enthusiasts.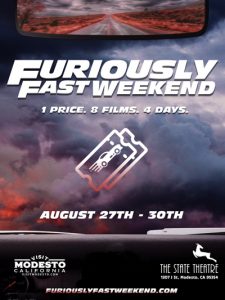 Middagh Goodwin LIVES Music. He has been booking and promoting Music, Art and Comedy for years in the Central Valley. He ran the award winning Plea for Peace Center in Stockton for 5 Years and has booked bands from A-Z. Middagh is beginning 2016 with a new position at the Gallo Center for the Arts and celebrating Beat Happy! Music's 30th Anniversary. Read the MAMAView every month and a the Needle Drop 52 Records 52 Weeks.