RockabillyView: Hillbilly Boogie to Psychobilly Stomp
By Midddagh Goodwin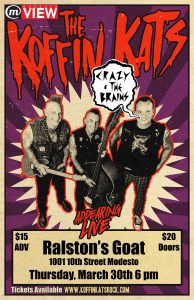 A key component and root sound of Rockabilly and, in turn, Rock n' Roll can be traced back to the Doghouse slap bass style of Fred Maddox. The Maddox Brothers and Rose started playing music in Modesto in 1937 and garnered crowds wherever they played. Bill Black, Elvis's bassist, was a huge fan of Fred Maddox and taught himself how to play like Fred by pounding the crab out of the strings to make a beat and learning some fingering. He kept the percussive attack which created a loud, distinct slapping style then it crudely became musical, influencing a million players that remain a staple in Rockabilly and, of course, Rock n' Roll. Fred Maddox's bass is displayed at the Experience Music Project in Seattle. "They wanted his bass because they believe he might have hit the first note of rock 'n' roll on it." The Maddox Brothers and Rose are part of Modesto and the World's musical history. Learn more Modesto Music History at www.modestomusichistory.com
The ModestoView celebrates our ties to Rockabilly by sponsoring concerts and plans to create a yearly Rockabilly Luau at the Graffiti Car Museum. On Thursday, March 30th at 6 pm, come out to Ralston's Goat for the next Rockabilly Cruise Night with America's premier Psychobilly band, The Koffin Kats returning to the 209 almost a year to the day since they rocked Modesto.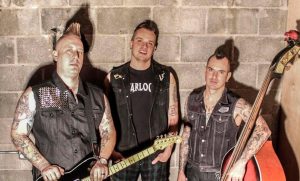 Koffin Kats is a psychobilly trio from Detroit, Michigan. Fusing the swing of classic rockabilly with the hot-wired energy and ghoulish imagery of the Misfits, this band proves that high-octane psychobilly is still alive and kicking in the American midwest. Formed two decades ago in 2003 by lead singer and upright bassist Vic Victor and guitarist/vocalist Tommy Koffin, who had been part of the Motor City punk scene for some time before trying their hands at the doom-struck twang of their punk-rockabilly fusion. Eric "E-Balls" Walls performed with them in that first year, took a break and returned in 2007, and they have not slowed down. Releasing With eight full-lengths, a split, and 2 EPs, they have consistently put out new music and toured since they hit the road in 2004 to support their Self Titled debut.
Joining them on this run through the Westcoast is the high energy east coast punk band Crazy & the Brains, who has been compared to Rancid and the Ramones and features Ali Presses from Stop the Presses and Rude Girl Revue on the keyboard.
Tickets are $15 in advance, available at www.koffinkatsrock.com, or $20 at the door.
Middagh Goodwin LIVES Music. He has been booking and promoting Music, Art, and Comedy in the Central Valley for years. He ran the award-winning Plea for Peace Center in Stockton for 5 Years and has booked bands from A-Z. In addition, he is the managing editor of ModestoView and writes the MAMAView and GeekView. Middagh works with the Modesto Area Music Association and books Music in the Plaza. In addition, he owns and operates Graffiti-Con, where cars and pop culture intersects. More recently, Middagh has been working with the Graffiti USA Classic Car Museum, helping to create unique events that help raise funds and awareness of the museum and its mission. On top of that, you can tune into one of two shows that Middagh Goodwin hosts on KCBP 95.5 FM; This is SKA and MAMA Radio.