FoodView: In the Morning I'm Making Waffles-Donkey, Shrek 2001
By Chris Murphy & the ViewCrew
There is something special about a waffle.  For some, it is the pure simplicity of an old school small hole waffle, with butter and some maple syrup.  Some add strawberries and whipped cream, some slather on some peanut butter and sprinkle with chocolate, some prefer a big thick Belgian waffle and some even top their waffles with bacon or fried chicken, and then some syrup.  Waffles mean so many different things and even a good ole Eggo in the toaster with a tab of real butter will do the trick sometimes.  
Heck, even Bill Bowerman, used a waffle iron to revolutionize the running shoe.  I don't think his waffle iron ever saw waffle batter again, but you gotta do what you gotta do.
This month, the ViewCrew really dove into what makes their waffles special and we fanned out across the county to see where our fave waffles come from.   I am sure that we missed some of your faves, so please, send us your faves and we will add them to our list and post them on our socials.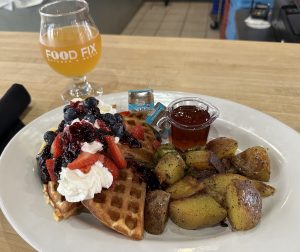 Food Fix
By Chris Murphy 
Ahh, Sunday brunch. This is one of life's best weekend rituals.  Our food friends at Food Fix on 11th St, have been delivering amazing tastes, from fruity pebbles cookies and the world-famous porkstrami to tasty house-made breads.  Their weekend menu has a variety of waffle flavors with tasty topping options and organic maple syrup.  My choice for toppings was a blueberry compote with fresh strawberries and blueberries topped with whipped cream.  
FYI, I like the small hole traditional thin waffles.  More holes to capture the butter and the toppings in every bite.   The waffle was soft and fluffy and the toppings filled every nook and cranny.  On the side, you can get fruit or some crispy Yukon potatoes.  
Every brunch needs a tasty beverage.  For you mimosa lovers, Food Fix has some great sour beers that are a perfect match to a fruit-covered waffle.   I enjoyed the Sweet Cart Sour from Last Call Brewing with the flavors of Mango, Watermelon, Pineapple, and more.   Best of all, you can try so many flavors and don't forget to take home a pint of coleslaw.  Food Fix 11th St, Modesto Open 11 am daily  209-525-3663 @foodfixbutcherandbaker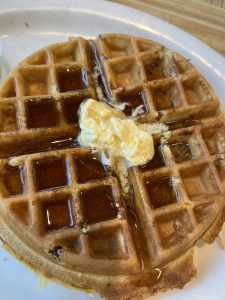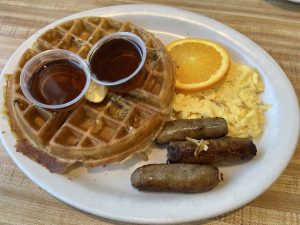 Old Mill Cafe
By Abigail Power
Waffles are having a MOMENT at the classic Modesto Favorite, Old Mill Cafe. There are so many different flavors to try from Strawberry to Bacon to Chicken N Waffles and more! The ViewCrew went for the Pecan Waffle which is a large Belgian Waffle with chopped pecans in the batter! The waffle was fluffy, nutty, covered in syrup and butter and exactly what we needed to start off a perfect Saturday morning. Check out the new flavors and try the Waffle Combo if you want a side of eggs and bacon, too. Head to Old Mill Cafe and get one of their legendary waffles and then cruise around Downtown Modesto happy and full of goodness. Old Mill Cafe 600 9th Street Modesto Open 6:00 AM to 2:00 PM Daily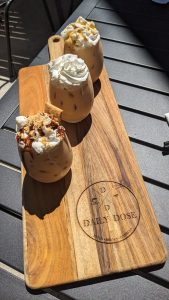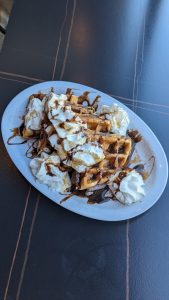 The Daily Dose
By Carly Russell
The Daily Dose, a lounge-style bistro located in downtown Riverbank, enhances a delicate golden-brown waffle with a layer of cinnamon, sugar, caramel chocolate drizzle, and whipped cream to create a "Churro Waffle." This Latin-inspired waffle captures the spirit of favorite breakfast cereals like Cinnamon Toast Crunch and elevates our favorite street food dessert to a new experience. Combined with the Daily Dose's delicious flavored coffee flights, this waffle will have you smiling from ear to ear. 3310 Santa Fe St, Riverbank, CA, is open Wednesday, Thursday, and Sunday from 9 AM to 3 PM, and Friday and Saturday from 9 AM to 5 PM.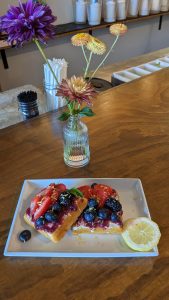 Get Toasted
By Jennifer Mullen
Get Toasted, located in downtown Riverbank, offers a new and unique spin on the traditional waffle that will tantalize your taste buds. The Berry Lemon Cheesecake Waffle is a delicious explosion of flavors. Topped with a creamy cheesecake spread, a strawberry, blackberry, and blueberry compote, and some fresh lemon zest, this waffle is an indulgent and truly delectable breakfast experience. While there, enjoy the Get Toasted "mimosa flights" and sip through various inventive flavors!
Get Toasted is open Thursday-Sunday from 10 AM-4 PM at 3308 Santa Fe St in Riverbank.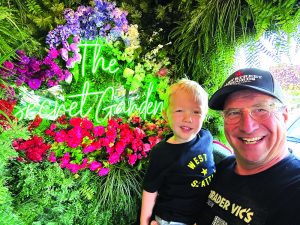 Secret Garden
By Chris Murphy
If you are looking for a family and kid-friendly waffle place, you need to head to The Secret Garden. This has been a go-to place for our family for nearly 30 years as it used to be Ridgways, back in the day. Secret Garden is bright, clean, and friendly. Their breakfast selection is amazing. In addition to their great omelets and French toast concoctions, their

The waffles are on point. On this particular day, I ordered strawberries and whipped cream waffles with a strawberry shake while my grandson had Confetti pancakes. Get yourself a side of sau- and you are good to go. You can also get a nice mimosa flight too.

Special Hack – You can get a "special" shake with a shot of vodka in it upon request since they have a full bar. Try it sometime. For full review, check out August 2022 ModestoView. @thesecretgardenatcentury
Secret Garden 2401 E. Orangeburg Ave, Modesto, 209-846-9559, 7-9 pm daily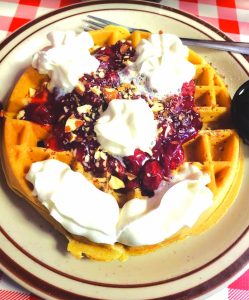 Waffle Shop Country Cooking
By Pete Grimaldi

Waffle Shop Country Cooking serves great, homestyle country cooking in a casual diner atmosphere. At Waffle Shop Country Cooking they work hard to serve you delicious home cooking at affordable prices. Stop by and try one of their "14 different types of waffles!", my personal favorite is the pecan waffle or choose the best chicken and waffles around.
Open for early morning risers at 5 am, 2400 Coffee Rd #A, Modesto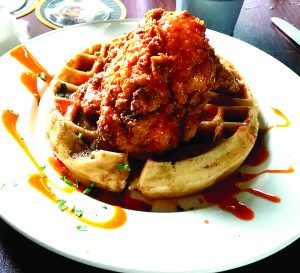 Tap Room Pub & Grub
By Mike Mangano

If you are looking for something spicy and sweet, you really must try the Chicken and Waffles at the Tap Room in Modesto. Two pieces of fried chicken on top of a fluffy Belgian waffle, covered with a spicy Buffalo sauce syrup. 209-551-1085 @taproompubandgrub Open Daily at 11 am  3948 Sylvan Ave, Modesto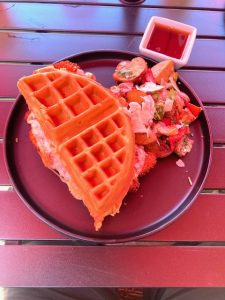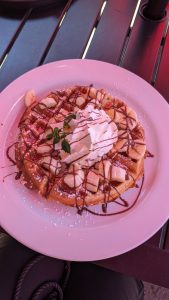 Delcioso
By Middagh Goodwin
Looking for something to satisfy both your sweet and savory cravings? Look no further than
Delicioso by Mr. and Mrs. Their take on the classic chicken and waffles includes a fluffy, slightly
crispy Belgian waffle, crispy chicken breast with a honey Sriracha glaze, cheese, orange butter,
and maple syrup on the side. And if that's not enough, it comes with a side of country potatoes.
The honey Sriracha glaze is a delicious twist on a bottle of Tabasco sauce, adding an extra kick.
If you're a fan of sweet treats, you won't want to miss out on the Nutella Belgian waffle. With its
light and airy texture and delectable flavor, this waffle is the perfect indulgence for any dessert
lover. Rich and creamy Nutella is drizzled on top, as well as fresh banana slices(you can also
get it with Strawberries) and whipped cream, Whether you're looking to satisfy a craving or
simply treat yourself to something special, the Nutella Belgian waffle is sure to hit the spot.
Delicioso by Mr & Mrs 1410 H Street, Modesto 9 am -2 pm Daily.
Chris Murphy is the President and CEO of Sierra Pacific Warehouse Group and Publisher and Founder of ModestoView Inc. Chris worked globally in the cycling industry returning to Modesto in 1996. He is also the founder of the Modesto Historic Graffiti Cruise Route, Legends of the Cruise Walk of Fame, Modesto Rockin' Holiday, the Modesto Music History Organization and co-founder of the Modesto Area Music Association. Chris is married to his artist wife Rebecca since 1985 and has two daughters Madison and Abigail, both graduating from Modesto High and UC Berkeley. He is lead singer and guitarist for his band, Third Party that donates their performances to non-profits.