Jazz BluesView: Blues on the Horizon
By Eric Benson
Well, things are continuing to improve, and the weather is cooperating for getting back to the business of living and playing live music. We are trying to do more live events outside with social distancing to keep people safer. The monthly Blues Crawl returns Sunday, May 23rd Eric Benson and Big Earl Mathews keeping things rolling. Ralston's Goat with High st Blues Band 11 am Downtown Bauer's Big Earl & the Cryin Shame at 1 pm, and headliner, the mighty Chris Cain Band at Café Urbano 3 pm, $20 cover charge for Chris Cain. All venues within walking distance in downtown Modesto with food and beverage available all-ages venues and doing it outside!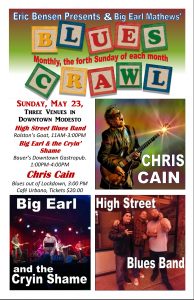 Café Urbano continues with live music: Sunday, May 2nd Orquestra Dharma Sextet with special guest Gustavo Ramirez on the piano, and Carlos Caro on Percussion 3 pm, Saturday 8th Latin Flavor Band with RJ Hass Latin Rock 5 pm, on Monday the 10th, Blue Monday Party Jam session, and Sunday the 30th a Leukemia benefit fundraiser hosted Dylan Soto 3 pm. Urbano also has DJ events Salsa, Cumbia on Taco Tuesdays, also Thursday through Sunday for DJ Latin dancing with great food and a full bar so come on down.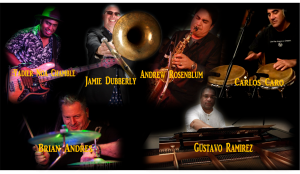 A little shout out to one of the Valley's young lions of music Raul Ontiveros. I met Raul at Dave Dow's Jazz jam, Raul was tearing it up on the Trombone, then switching to Bass. Raul hails from the small town of Grayson CA, where music was part of the family. At the suggestion of his brother, he started playing Bass with the main influence Flea of the Red Hot Chili Peppers. Influenced by some of the Funk and Soul players like James Brown, Stevie Wonder, RHCP, and Youtube creators such as Davie 504, Adam Neely and especially Jacob Collier. Raul Also plays Jazz, Rock, Blues and fusion music and teaches music on Bass, Trombone, Guitar and piano. Raul performs with Ivory Flats, Josh Rosenblum Band and Blue Monday Band as well as the Jazz Jam Ralston's Goat Thursday nights. Raul teaches professionally now at Guitar Center Modesto, you can call them and ask for him by name if interested. Check him out online by his stage name Raul Slaps, YouTube, Instagram, Facebook, Spotify and of course Tiktok! And when asked "Beatles or Stones?" Raul "Beatles… they changed the world." You will hear more of Raul, if you need a dependable great musician give him a holler!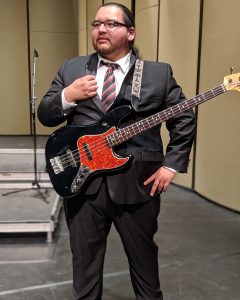 Well, folks thanks to all you good people doing the right thing, wearing masks, social distancing and getting that Soul Vaccination, things are improving. Remember to reach out and be kind as a lot of us struggling right now, emotionally, physically, and spiritually. We also need to support our local business and economy, so it is still there as things continue to improve. So please continue to support our local venues.
Peace out, Eric Benson! Need to get me or co-conspire with me, the cell is (209) 918-7033 And be like Alpha Beta and tell a friend.