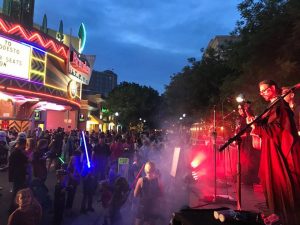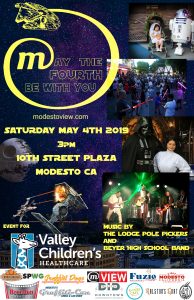 May

the

Fourth

Be With You
Since 1977, "

May

the Force be With You" has been part of the global lexicon. This phrase, created by Modesto native George Lucas symbolizes the magic and influence of his epic film Star Wars, the follow-up film to his breakthrough American Graffiti. Just say "

May

the 4th Be With You" out loud and you will hear the pun that so many Star Wars fans worldwide have used to proclaim their love of the saga. "

May

the Force be with you" to all that celebrate Modesto's best-known citizen George Lucas's beloved Star Wars story is the phrase that binds us all together and is a message of hope for all, like peace or shalom.
On May 3rd, 2016 an official proclamation was made by the City Council making May the Fourth Star Wars Day in Modesto. Two years ago marked the 40th Anniversary of Star Wars: A New Hope and we celebrated big in the 10th Street Plaza. A new tradition was born and this year Star Wars Day looks to be bigger and better.
On Saturday,
May
4th at 3 pm we descend on the 10th Street Plaza once again to celebrate all things Star Wars. We have invited all the Fan Clubs to join us the 501st, Mandalorian Mercs, Dark Empire, Astromech Builders and Rebel Legion. We have reached out to the NorCal Cosies and Central Valley Costumers to join us as well. We encourage you all to dress up as your favorite characters or just sport a Star Wars T-Shirt to show your love.
Once again the Lodge Pole(Jedi) Pickers will be performing live and Laser Voodoo will be putting on a laser light show to thrill children of all ages. Fuzio, Ralston's Goat and Graffiti-Dogs will be doing speciality themed food and drinks. Many of the restaurants and all the vendors will be donating a portion of sells to the Valley Children's Hospital.
Along with all this, there will be a life-size X-Wing and other displays to take pictures in front of. When the sun goes down join in the lightsaber battle. Also this year there will be a 3 Foot Death Star Pinata(a nod to Revenge of the Fifth) filled with Star Wars stickers, toys and of course candy. Spread the word, bring your friends, your family, your kids and
May
the Force Be With You.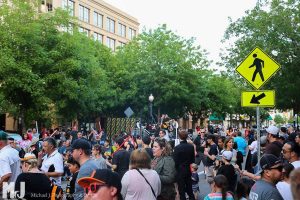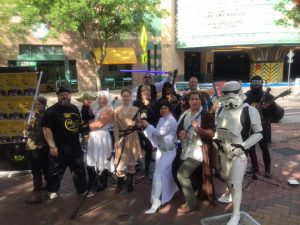 Middagh Goodwin LIVES Music. He has been booking and promoting Music, Art and Comedy for years in the Central Valley. He ran the award winning Plea for Peace Center in Stockton for 5 Years and has booked bands from A-Z. Middagh is beginning 2016 with a new position at the Gallo Center for the Arts and celebrating Beat Happy! Music's 30th Anniversary. Read the MAMAView every month and a the Needle Drop 52 Records 52 Weeks.