ArtView: Modesto is Brighter with Art
By Jim Christiansen

Independence Day is here, and more galleries and venues re-opening in Modesto.  Art Walk is rumored to get a restart and new shows on display with more visiting hours.  You can see the venues gearing up with the new parking striping on J Street, and the upgraded outdoor eating islands, and the building appearance with new paint, and in some cases, new murals.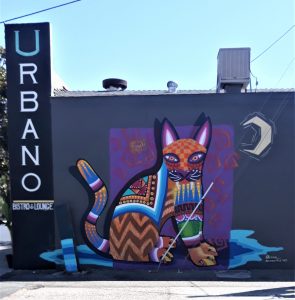 Café Urbano has their cat now on the outside wall, matching the indoor décor.  You may have to look in the rearview mirror as you barrel down one-way H street, but worth a glance. Credited artist Cova Street Art. Prospect Theater Project on K Street in the other direction, much more colorful now, and easy to identify with their Logo Mural and new façade painted panels. New box office window too. Produced by volunteers with artist Phil Murillo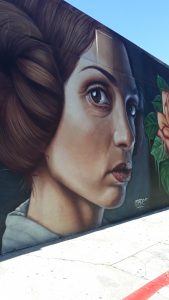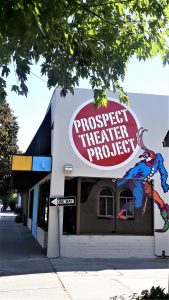 The Chartreuse Muse held their Grand Re-Opening June 19, complete with a FASM mural in progress over their entrance awning marquis.  The mural says Art School and Gallery in the design.  I caught the finished product the next day. The Muse is now open at regular hours again.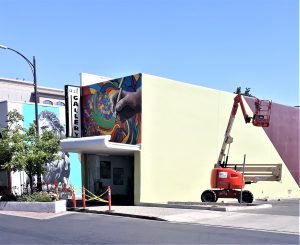 Over at Barkin' Dog Grill, artist/musician Jeff Moore is the featured artist until 3rd Wednesday in August as we adjust back to a monthly schedule.  If an artist seeking a feature venue spot, let me or Barkin' Dog know of your interest.  With indoor dining back, more people see the art.
For artists seeking more exposure for their work, the Stanislaus Artist Open Studio tour has expanded the opportunity to add artists to the October 16 and 17 events. If you aren't on the original pre-pandemic roster, you can apply for a spot by filling out an entry form and paying the $75 fee by August 1. If you need to share a space, the Open Studio committee can try and coordinate that with another artist or venue.  Artists already on the map will need to confirm their applications with a new form, as Open Studio will reissue a new map, as there have been changes in venue status, artist participation, and the addition of any new artists, studios, or changes in display address. 
Stanislausaos@gmail.com
The Annual Carnegie Arts Center Showcase opens July 9 and runs to September 5.  I got one of my two entries accepted, "Summer – 2020." Visitors are charged a fee to see the exhibition at Carnegie, but the First Fridays of the month are free admission.  More information 
www.carnegieartsturlock.org

The big show in Modesto this month is "Domestics: Home is Art" which opens July 1. Sponsored by the Kemper CPA Group LLC, the theme is scenes and images found in and around the house.  This show was open to Central California Art Association members and non-members alike, and juried in. I submitted four entries, and don't know if any got into the show.  The show will also feature a retrospective of artist Annette Van Laar-Molnar.  

Workshops and classes offered at the usual suspects through summer.  Dragonfly Art for Life, MoCon Conservatory, Chartreuse Muse, Mistlin Galler, Peer Recovery Art Project all in downtown Modesto Arts District and Carnegie Arts in Turlock.  Kruse-Lucas gallery on Tully features a three-artist celebration of Graffiti Summer, and not far from the new Modesto Graffiti Classic Car Museum, featuring classic cars and memorabilia.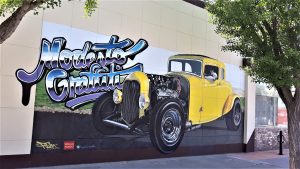 Jim Christiansen, award winning watercolor artist, cartoonist and member of many art groups moved to Modesto in 1977. Born in Riverside, California, and attended University of California, Riverside. Jim often shows around Modesto, does a poster or two, and has been host of the art walk events at State Theatre and Jax on H. Jim has been writing the art notes column several years for Modesto View.