FitView: Vaccinate Your Fitness 2021
By Efren Martinez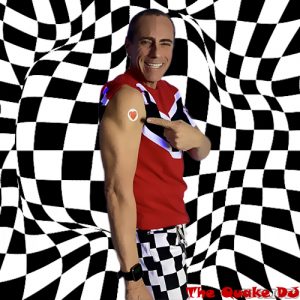 As we enter into 2021 I know we all are looking forward to a brighter and better New Year. One of the most exciting and promising parts of the New Year is the Covid 19 vaccine. It will save lives and is the start of getting us back to our normal pre-pandemic life. As many of my friends know my nutrition and well being is one of the most important parts of what makes me, me. I personally have never been one to be excited about putting anything into my body that wasn't natural. I don't eat fast food and I avoid processed foods along with sugar and salt. You won't find butter on my dining room table. When it comes to medications both my wife and I always prefer to go the natural way to healing if possible. Thus far it's worked out very well. In my world, I've always known that eating a well balanced diet along with taking my daily vitamins has not only kept me out of the doctor's office but has helped ironclad my immune system. I haven't had a cold or been seriously sick in nearly 20 years. I owe this to living a healthy natural way of life along with fitness.
I try to do my very best to take care of myself. This would include me doing one of my not so favorite things, getting a flu shot every year. Although it's not something I enjoy, I do it to protect myself and the ones I love because I know it's good for me. For many, the choice to get the flu shot is a personal choice of course. As last year showed many stepped up and decided to get the flu shot more than ever before. Soon many of us will be given the choice to get vaccinated against the Covid 19 virus. I am thrilled that we now have an end in sight from this deadly pandemic that has crippled the world we live in. Some may have reservations about putting something so new in their body. I do as well, but I also believe and trust in science. I'm treating this vaccination as I would if I was going to get a flu shot. In short, I'm taking another one for the team for the greater good of the human race. Having studied some on how vaccines work through online research, I'll look to change my way of life for the next few days after I get vaccinated. First and foremost I will not exercise for at least two to three days after I get vaccinated. Rest is so important to the body. The body not only heals when we sleep, but it also helps rebuild muscle and fights off disease. This is why it's so important for me to get good sleep and continue to eat right along with keeping up on my daily regiments of vitamins. So when my turn comes to get the vaccine I am ready.
Friends at this point I'd ask you to join me in taking one for the team if vaccines aren't something you're crazy about. Of course, before you do check with your doctor if you have any existing allergies or concerns. My friends 2020 was challenging for us all. I'm so looking forward to not only seeing you this year but also Entertaining you as your Quake Mobile DJ.
Happy New Year friends, I love you all.
Efren j
Follow me at www.facebook.com/QuakeFitness & www.facebook.com/quakedjs
I answered the call back in 1983; mixing Music and Entertainment with an eccentric European style has always come easy for me. In the early 80's I was the Disc Jockey for most of the high school dances in Modesto. In the late 80's I found myself in Hollywood working as a dancer and sound engineer for various professional recording industries. In 1990 my wife of 25 years and I started (The Quake Mobile DJ ®) which was seeded from San Francisco's 1985, The Quake, radio station that only lasted a short while on the air. 26 years later The Quake Mobile DJ is bigger & better than ever in the Entertainment industry. Real-Estate, photojournalism, event promoter, saving animals, travel and fitness are a few other of my interests. I also enjoy motivational speaking to children and to those who are struggling with addiction. In my life, I have always been a very direct person and once I see a goal I won't quit till I've achieved it. But out of all of the above I feel in my heart that the best inspiration in my life is my wife and my love for the faith that I practice. Phil 4:20