Jazz BluesView Springing Back with Music
By Eric Benson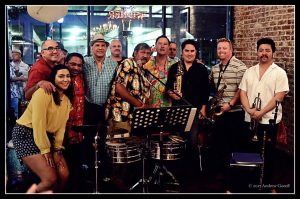 The weather is cooperating, and downtown is bustling with arts offerings. The farmers' markets are thriving, and spring events keep us active. It is the perfect time to come down and support local businesses. Downtown is starting to come back to life, and there's no better way to experience it than by attending the Blue Monday Party on the 2nd and 4th Mondays in May. This month, the party features Gustavo Ramirez and a Cinco De Mayo groove with friends.

As we continue to navigate the pandemic, it's essential to keep supporting the arts and local businesses. Chris Murphy and Gary Nelson support the Blue Monday Scene, which I appreciate, and we must keep it going. By attending events like Blue Monday, we can help boost the local economy and support our community.

The Blue Monday event features great music and attendance. The House Band includes John Burt on sax, John Adey and Conrad Johnson on bass, Dave Hawkes and Cortez Flores on drums, Eric Benson on keyboards, and Natalia Alexandra as the vocalist. Moreover, there are special guests at each event, and the jam is open, so come down and enjoy the music. The band will host on May 8th and 22nd, so mark your calendars.

If you're looking for something to do outside of Blue Monday, Café Urbano is an excellent spot. It offers a full bar and great food, and they also have DJ dancing Tuesday through Sunday, featuring Latin-based music. The Creole Jazz Kings continue to play at Café Urbano and will be back this month, so make sure to swing by and check them out.

There are plenty of other great shows and venues to explore this month. While the Gallo Center has some fantastic performances, other great venues out of town, such as Yoshi's Oakland for the best jazz shows, Khumba Music Center in Santa Cruz, Piedmont Piano Company, the Back Door, and the Sound Room located in Oakland. It's an excellent opportunity to catch live music and explore new areas.

Please continue to come out, folks, as we can't do it without you! By attending local events and supporting local businesses, we can help ensure that our community thrives.