Unplugged View: The Jewel Of The Isle
by Aaron Rowan
The listening room is the most satisfying sort of venue where I've presented music over this past decade. Modesto offers few such spaces, but this month I'm trying out a new one, which looks like it could be quite the experiment. Modesto Unplugged has partnered up with The State Theatre for an intimate evening of song in its 25-seat side theatre The Jewel. On September 12, acclaimed folk singer Iona Fyfe and her trio bring their program of traditional and pop songs all the way from the eastern coast of Scotland. Iona is regarded as one of Scotland's finest singers, rooted deeply in the vocal traditions from the northeast of the country. Last year she became the first singer to win Musician of the Year at the MG ALBA Scots Trad Music Awards. Get to know Iona and the music she loves so much on Monday 9/12 at 7:30 PM. Doors open at 7:00, $25 general admission, cash at the door. Seats are still open as of press time. Reservations can be made at 209-543-5306 or modestounplugged@yahoo.com.
Francesca Bavaro returns for a hometown concert this month. You might remember her as a champion of the Valley Talent Project, or from American Idol, or perhaps from that time she belted out Neil Young's 'Harvest Moon' at a showcase I once hosted, which is still one of the most memorable moments from any of my events. She's gone on to sing with Postmodern Jukebox across the US and Europe; now she's coming to headline a benefit concert also featuring comedian/ventriloquist Karl Herlinger. Saturday 9/17, 7:30 pm at State Theatre, tickets $25-$45.
How many more stunning voices can fit into downtown Modesto in the span of one week? At least three, it turns out, when Opera Modesto presents their 'Three Mezzos' matinee at the Mistlin Gallery. We'll hear from Anakira Gabriella-Graca, Alexandra Jerinic, and Linda Baird at this cabaret with wine & snacks. Sunday 9/18 at 2 PM, $50 VIP table seating, $30 general, $20 student. More at www.operamodesto.org.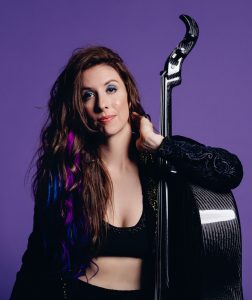 The most exciting new act I met during my recent cross-country tour-managing travels is Nashville singer-songwriter & cellist Sarah Clanton. Her live set of cello-driven songs is refreshing, empowering, authentic, whimsical and witty; and her engaging performances invite audiences to join her in an escape from the ordinary. Sarah's innovative sound is an eclectic blend with flashes of the classically-trained pop sensibility of Norah Jones and the sultry jazzitude of Amy Winehouse. I am honored to say that I get to introduce her to Modesto's music appreciators on Friday 9/23 at The Dragonfly Art For Life, 1210 J St. Cello-brate with Sarah from 7:30-9:00 pm, $10 cover. And keep checking the MU website for more songwriter showcase Fridays coming to the gallery this fall. Intimate performances. Infinite playlist. MODESTO UNPLUGGED. www.modestounplugged.com.